It's been good to play in the MiniFTOPS series on Full Tilt Poker (FTP) and once again see the names in red hogging the top of the tournament waiting lists. It reminded me of the times I received two 'I knocked out a pro at Full Tilt Poker' t-shirts, after owning both Andy Bloch and Erick Lindgren.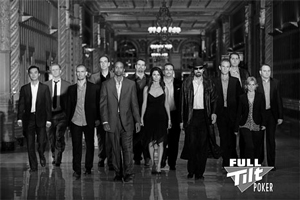 I remember the disappointment when the t-shirts arrived in the post and I realized they were both the same. I was expecting them to contain the name of the Full Tilt Pro and the details of the contest that I eliminated them from. I kid you not, I was going to frame them and hang them in my grinding room, that's how proud I was at the time.
Poker has made me cynical since those wonderful days, and each time I have poked my fingers into the debate of online sponsorship I have poured scorn over the very relevance of the system as a whole. Whilst I have whole-heartedly supported the move into mainstream sponsorship with the likes of Rafael Nadal and Ronaldo over at PokerStars, I have cast doubts over the validity of the current crop of Full Tilt Ambassadors at it's sister site
When you read the interviews from the latest recruits of the PokerStars Team pro stable, you inevitably hear the clichéd response that it had always been a dream to join such an elite group of players. Back in the day, it was everybody's dream to join FTP. PokerStars was Linda Lovelace, whereas FTP was all Asa Akira.
At the height of its powers there could be anywhere between 150 and 200 people playing online on FTP that had some sort of affiliation with the company. They were the benchmark for online poker sponsorship, and I think it's time the people who are paid good money to breathe new life into the brand, look backwards before moving forward. Not only does FTP need those players to return to its felt, but also the players need FTP.
I have said it time and time again, if you are choosing professional poker as your career then you have your work cut out. It's a tough business, especially if you are cutting your teeth on a live circuit that eats expenses quicker than kids eat sugar. For these types of players the FTP sponsorship was worth its weight in gold.
With over 130 Red Pros on the payroll, the cynics used to say that the prestige had been ripped out of the heart of poker sponsorship. What a load of bollocks. It doesn't matter how many people a site sponsors. When you get that call your ego will rise accordingly, don't you worry about that.
In the past I have focused my beady eyes on the influx of new players. I have asked the pertinent question, 'what does a patch do to attract new players to the game?' Whilst that question still remains an important one, I have been approaching the question with tunnel vision. It's time to also consider the role of the professional player and what impact they have on the game.
Those 130+ Red Pros were much more than just the bread and butter of the game, they were the bread and butter of the industry. It's all well and good to want to grow and build a sustainable future, but to do so you need a solid foundation. Without them the house shakes, and right now I feel a tremor or two.
The story of Danielle 'dmoongirl' Moon-Andersen's quest to become a FTP pro on the documentary Bet Raise Fold, was fantastic, as it showed us how important it was for a grinder to be recognized with one of poker's elite outfits. It wasn't just the prestige, glory and ego; it was about providing for her family. That's real life.
Just take a look at what's happened to the UK list of FTP Red Pros since Black Friday. James Akenhead and Praz Bansi were two red pros who became known as The Hit Squad (alongside the Chattha brothers Sunny and Chaz and Karl Mahrenholz) after a series of fantastic results drew the attention of FTP. Both Bansi and Akenhead remain great players, but are conspicuous by their absence from the headlines of today's poker stories.
Roberto Romanello is a former World Poker Tour (WPT) and European Poker Tour (EPT) champion, but without a poker sponsorship the Welshman prefers to spend his time creating income through his family businesses.
"I find it difficult to justify spending such large sums of money on the tour when my family is working so hard back home." Said Romanello.
Romanello loves poker, but without the assistance of a sponsorship deal he's left with a difficult choice to make, and he's not alone. When was the last time you saw David Colclough and Roland de Wolfe playing live tournaments, or capturing large scores online? Two years ago Colclough was working with ChipTic as they tried to infiltrate the World Series of Poker (WSOP) with their live chip-reporting model. Now I am sure that Colclough was invested in that particular business, but don't you think the man who has earned over $2.6m in live tournament earnings would have preferred life on the other side of the fence?
Andrew Feldman has left the business entirely, Julian Gardner made a rare foray into the International Stadiums Poker Tour (ISPT) event at Wembley, but other than that his appearances are like gold dust, and the same is true for Andy Black and Ben Roberts.
The Full Tilt Red Pro program was extremely important for these people, and had it still been in place we would be seeing much more of them on the circuit. Instead, they are out of the game, some sporadically and others completely. They are the bread without butter, and someone needs to start spreading fast.
If the creation of the Full Tilt Ambassadors becomes the catalyst for the return of the Red Pro, then I will eat my words and say that the birth was a much-needed one. The moniker used to be 'come and play with the pros', and with close to 200 of them your chances of doing just that were magnified immensely.
So come on FTP let's get those t-shirts back into circulation. Resume your old affiliations with the squeaky clean members of the Red Pro brigade and pay them to get back onto your felt.
Let's get back to what made you great in the first place.
Give me some pros that I can own.