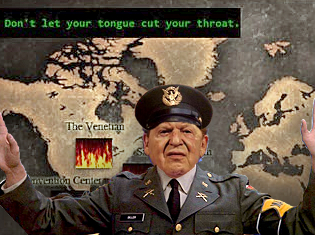 Just a day after casino operator Las Vegas Sands managed to reboot its corporate websites, the hackers that forced the sites offline last Tuesday posted a taunting video showing they got further into Sands' digital underwear drawer than Sands had previously admitted. The 11-minute video, which was uploaded to YouTube then deleted by the site for violating its T&Cs, claimed that the 'Anti-WMD Team' that attacked Sands' sites had made off with 828 gigabytes of data from the casino operator's corporate files.
Softpedia's Eduard Kovacs reported that the data files displayed in the video appeared to include budget info and administrator passwords for the Sands Bethlehem casino in Pennsylvania, while the Associated Press reported the data included player info and passwords for slot machine systems. Messages that appear onscreen during the video, such as "like hell it has," appear intended to counter Sands' assertions that the hackers got no further than Sands' mail server.
In response to the video, Sands spokesman Ron Reese issued a statement saying the company had "now determined that the hackers reached at least some of the company's internal drives in the US" but that Sands was still reviewing the video to determine "what, if any, customer or employee data may have been accessed." Reese said the company continues to believe that "core operating systems have not been impacted."
The Anti-WMD Team claimed in the video that it was storing the purloined Sands data on a local hard drive and hadn't (yet) posted the info online. Reese said he didn't recognize the "Zhao Anderson" account name that uploaded the video to YouTube and forwarded it to several media outlets. The FBI, Secret Service and the Nevada Gaming Control Board are all conducting probes into the hacking.
The original motivation behind the Anti-WMD Team's targeting of Sands was believed to have been Sands chairman Sheldon Adelson's belief that Iran shouldn't be allowed to pursue a nuclear program and his suggestion that the United States detonate a nuclear weapon in the Iranian desert with the implication that the next one would be aimed at downtown Tehran.