Anthony Merulla wins the WPT Winter Borgata Poker Open Main Event, WPT World Championship seat, a place in the WPT Champions Club, and $842,379 in prize money after defeating David Paredes in heads-up action.
Anthony Merulla, a 39-year old finance professional from Washington D.C, is still wiping his eyes in disbelief, as he comes to terms with $842,379 reasons why he may just have to consider changing careers from finance to poker.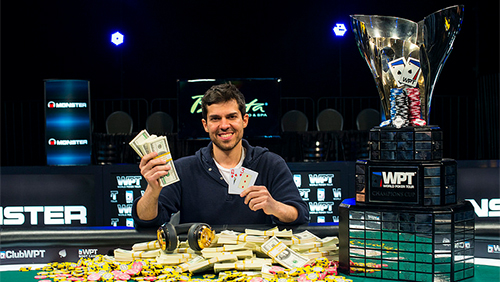 If you look at Merulla's live tournament cashes you will see just one. This one. And what a way to get the ball rolling, as he becomes the latest name to be etched into the World Poker Tour (WPT) Championship trophy.
Merulla started the final table with the second shortest stack, and the likes of David Paredes and current WPT Jacksonville bestbet Fall Poker Scramble champion Jared Jaffee for company. It was a tough ask, but one that he was well up for.
It didn't take long for Merulla to make his mark – 15 hands to be exact – when he got it in three-way with Jaffee and Farid Jattin. Merulla was holding [Qd] [Qh], Jaffee [Th] [Ts], and Jattin [Kc] [Ks].
Jattin was in a great position to take a foothold in the contest when disaster struck. The flop was a rather innocuous looking [9d] [7d] [5h], the turn of [Td] pushed Jaffee into the lead, but the [Ad] handed Merulla a flush and a much-needed triple up. The action forced Jattin out in sixth place and just a few short hands later Vladislav Mezheritsky was following him after losing a race with AK v JJ of David Paredes.
Jaffee then moved his final 1.3m into the middle holding [Kc] [Jd] and was snapped off by Merulla and [Ah] [8h]; an ace on the turn sealing that particular deal and Jaffee was not going to be making it two WPT titles; but did pick up $258,590 to add to the $252,749 he won in November.
Anthony Maio was the next to crumble and once again it was Merulla holding the sledgehammer. Maio opened the button to 325,000 and Merulla called from the small blind. The flop was [7d] [5d] [2d] and Merulla check-called a 425,000 Maio bet. The turn was the [9c], Merulla checked, Maio bet 425,000, Merulla moved all-in and Maio called. It was [Qc] [Qd] for Maio for the over pair and flush draw, but Merulla had flopped the nut flush draw to end that particular kerfuffle.
The heads up encounter saw David Paredes take a slight lead against Merulla with 20,495,000 playing 16,175,000, and the debate was settled after Merulla had clawed away to take the chip lead before this happened.
Paredes min-raised to 1,200,000 and Merulla called. The flop was [Qc] [6c] [3s], Merulla led for 900,000, Paredes raised to 2,300,000, Merulla raised to 4,300,000, Paredes moved all-in for 12,300,000 and Merulla called.
It was [Qs] [8c] to give Paredes top pair, but Merulla was holding [Qd] [3d] for two pair. The [7d] and [4d] finished off the action and a new champion was crowned.
Final Table Standings
1st:  Anthony Merulla  –  $842,379
2nd:  David Paredes  –  $499,549
3rd:  Anthony Maio  –  $307,565
4th:  Jared Jaffee  –  $258,590
5th:  Vlad Mezheritsky  –  $213,650
6th:  Farid Jattin  –  $174,352