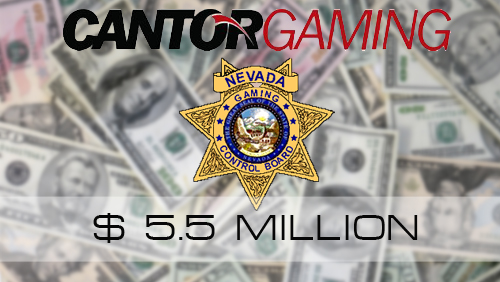 Not even a name change can expunge the wrath of the Nevada Gaming Control Board.
CG Technology, formerly Cantor Gaming, found that out the hard way after the company agreed to settle with state regulators to the tune of $5.5 million, more than double than the initial $2+ million that was initially reported. The settlement is expected to be approved by the Nevada Gaming Commission in a meeting later this month.
The $5.5 million settlement stemmed from an 18-count complaint filed by the NGCB against the company on grounds of the latter's failure to keep track of the illegal wheelings and dealings of Michael Colbert, Cantor's former vice president of race and sports risk management. Colbert was arrested in late 2012 and later pled guilty to accepting thousands of dollars in illegal messenger bets related to Pinnacle Sports.
Cantor had been adamant that it knew nothing of Colbert's chicanery, but acknowledged that it was a no-win situation against state regulators who could've, if they proceeded, proved the allegations it threw Cantor's way, hence deciding to just stomach the settlement and change its internal practices.
In its 35-page complaint, the Nevada Gaming Control Board challenged Cantor's assertions that it didn't know Colbert's illicit practices, saying that the company "either knew or should have known" that Colbert, one of the industry's more respected sports betting execs, was conducting all those illegal activities when it was employed by Cantor.
In addition, the complaint also detailed a number of violations incurred by Cantor, including failures in keeping its records properly updated, provide hard copies of wagering applications, and proper listing of key employee records.
Cantor said that it's more than happy to put the episode behind them as they look forward to a new year with a new name. But until somebody else tops the $5.5 million fine slapped by state regulators, it will live in infamy as the company that had paid the largest settlement in Nevada history, an ignominious record that nobody certainly wants to be a part of, least of all a company that counts itself as Nevada's largest sports book operator.
And that's on top of all the businesses it has all over the world, including a sports book at the Atlantis casino in the Bahamas, a new lottery games and mah jong in Tianjin, China, and a mobile casino product for Celebrity Cruises.
At the very least, the since rebranded CG Technology can now look forward to a new year without this case hanging over its head. That's the freedom that CG was apparently willing to buy in exchange for a $5.5 million record settlement.