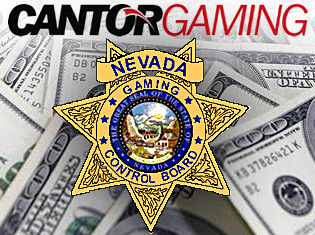 Nevada-based sports betting operator Cantor Gaming has reportedly reached a tentative settlement with Nevada regulators, who have been investigating how much the company knew about the illegal gambling activities of former VP and risk management director Michael Colbert. Colbert was among the 25 individuals charged by federal authorities in October 2012 in connection with illegal gambling activities related to online sportsbook Pinnacle Sports.
Cantor operates eight sportsbooks and a mobile wagering service in Nevada, as well as the sportsbook at the Atlantis casino in the Bahamas, a mobile casino product for Celebrity Cruises and the new Cantor Club in Tianjin, China. Colbert, who pled guilty to a single charge of felony conspiracy in August 2013, was accused of accepting illegal messenger bets and was dismissed by Cantor shortly after the indictments became public knowledge.
But questions remained as to how such a high-ranking Cantor exec could have carried on his illegal activities for so long without the knowledge of his fellow execs. As Nevada regulators continued to probe the matter, Cantor Gaming's parent company Cantor Fitzgerald felt compelled to issue a statement rejecting suggestions that Cantor Gaming CEO Lee Amaitis was in any way complicit in Colbert's dodgy dealings.
On Monday, the Nevada Gaming Control Board (GCB) officially filed an 18-count civil complaint (read it here) against Cantor, insisting that Amaitis and other senior Cantor execs "either knew or should have known" what Colbert was up to. The GCB believe Colbert knowingly accepted thousands of illegal messenger bets beginning as early as July 2011 and other Cantor staff "may have known or reasonably should have known" that these wagers were illegal. Colbert's status as a high-ranking member of a licensed betting operator and Cantor's "failure to supervise" Colbert sufficiently "reflects … poorly on the reputation of gaming in the State of Nevada."
Cantor was also smacked for failing to keep proper paperwork. Of the 19 Cantor account wagering applications the GCB requested during its most recent audit, Cantor was unable to produce eight of them. Of the 11 it did produce, one wasn't signed by the customer in question, two weren't signed by a supervising employee attesting to the authenticity of the customer's signature, two were missing the customer's social security number and three were missing the customer's phone number. A separate request for the account wagering applications of Cantor's top 100 clients found more than half "contained multiple omissions of required information."
Cantor was also found to be keeping records of in-running wagers for only seven days, rather than the five years required under Nevada law. Cantor also failed to renew employee registrations in a timely manner and had omitted certain names from its key employee reports. Other senior Cantor employees were found to have registered bets they themselves had placed and cashed winning tickets on behalf of themselves, both prohibited activities under Nevada regulations.
The complaint suggests the remedy for all this chicanery would be to slap Cantor with a suitable fine. Scuttlebutt has it that Cantor and the GCB have arrived at a settlement that would see Cantor pay over $2m to atone for its alleged complicity or cluelessness (take your pick which option is more pejorative). Official announcement of the deal – which would need to be approved by the Nevada Gaming Commission – is expected later this week.
The same day the complaint was filed, Cantor Gaming announced it was rebranding itself under the moniker CG Technology. The company also announced it has resumed its interest in pursuing a future as a publicly traded company. The company had flirted with the idea of a $100m initial public offering a couple years ago, but put their plans on ice in June 2012, citing a desire for privacy. Insert your own punchline.