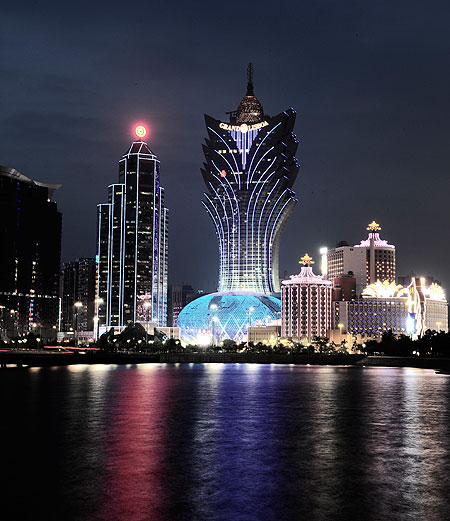 The allure of Macau as China's playground wasn't lost on tourists from all over the world in 2013. For the first nine months of the year, the gambling destination welcomed 21.9 million visitors to its doors, a five percent increase from its numbers in the first three quarters of 2012.
The data, which came by way of the Statistics and Census Bureau, saw a host of visitors from various countries increase in overall numbers, including China and South Korea, which visitation numbers rise by 12 percent and 5.8 percent, respectively. The numbers are likewise positive in September when 2.3 million visitors arrived in Macau, 7.9 percent better year-on-year.
For some perspective, the Philippines, a budding tourist destination in Southeast Asia that's hoping to become its own gambling hub in the region, had 4.27 million tourist visitors for the entire year last year.
Going back to September's figures, visitors from mainland China accounted for the largest share of the total number with 1.5 million people, 19.6 percent more than its September 2012 figures. Second on that list were visitors from Hong Kong (523,100), followed by Taiwan (91,700), South Korea (37,700), and Japan (25,500). Of those figures, only South Korean visitors saw an increase in visitation numbers, accounting for a 15.9 percent increase year-on-year. Hong Kong, Taiwan, and Japan saw visitation numbers drop 10.1 percent, 5.6 percent, and 27.7 percent, respectively.
Despite Macau's overall improvement in visitation numbers for the year, the third quarter of 2013 saw a drop in satisfaction from visitors as far as their time in Macau was concerned. According to data revealed by the Institute for Tourism Studies, Macau's satisfaction rating in Q3 dropped to 69.4 points out of 100, a noticeable drop from the 71.5 score in the second quarter of the year.
The Q3 number also marks the lowest quarterly satisfaction rating Macau has received since the first quarter of 2012 when the gambling destination saw its satisfaction index drop to 68.8 points. For the survey, researchers asked 1,222 visitors about their satisfaction with Macau relative to the expectations they had before going to the destination. Shopping was the clear and away winner as far as reasons for going to Macau was concerned, accounting for 25.9 percent of the total respondents. But the overall shopping experience from these visitors turned out to be far more disappointing than Macau would like, posting a meager 67.8 satisfaction points, down from the 71.5 points it received in Q2 of the year. Even heritage visits and eating out, two significant purposes of visits in Macau, saw their satisfaction points drop, as did satisfaction with hotels, which dropped from 73.9 points in the last quarter to just 68.5 points in Q3.
What these numbers reveal is an alarming realization that Macau's reputation as a tourist destination still needs some work, especially if it wants to have a more balanced appreciation from gambling and non-gambling visitors. "These results indicate that while there have been sustained overall improvements in Macau tourism products and services in the past four years, there has also been consistent deterioration which, altogether, neutralizes any progress made," the tourism research center indicated.
In order to reverse course and improve the city's overall appeal, the center issued a few recommendations, not the least of which is to "to identify, pinpoint and address the underlying factors that inhibit the long-term and sustained delivery of a positive and favorable visitor experience."
"This is just one survey about service quality – which is good to have – but it is not enough to have a real idea about the industry as a whole," University of Macau assistant professor of gaming and hospitality management Glenn McCartney told Business Daily.
"We are not very active in doing these studies, and we have to do more research to understand the pulse of the industry".