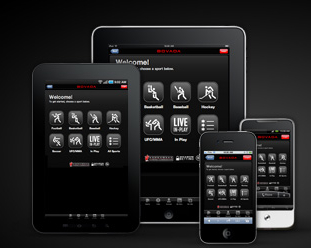 Mobile sports betting is ushering a new way of betting on sports with the benefit of it now being an on-the-go experience. Back before any concept of mobility was firmly entrenched in the Internet world, sports betting was often done either through betting shops or online, the latter of which meant using desktops. The closest thing to mobile betting was done through laptops, something that no longer seems handy these days.
The arrival of smartphones and tablets is largely responsible for the shift in mobile gambling. Talk about ease and comfort, the very idea of being able to place a small bet or a large parlay covering a string of sports has never been easier now that anybody can do it on a device that can easily fit on their pockets.
That's the biggest reason why mobile sports betting, has exploded in recent years. Access is the currency these days and these smartphones and tablets offer the practicality of allowing this access to anybody wherever they are in this world.
Notwithstanding all the offers, bonuses, and free bets online sportsbooks offer with their mobile betting platforms, the very notion of being able to do such a thing from anywhere with a stable Internet connection is the real selling point of mobile sports betting.
The interface may be different compared to the desktop version, but the content is the same, which means that all those picks you wanted to make on desktops are similarly available on mobile devices. Literally, you can bet anywhere now through mobile devices, whether you're in a train station waiting for your ride or in the bathroom doing your business, the easy access of mobile gambling has been one of the biggest reasons for its explosion.
And really, "explosion" may even be a faint way to describe it.
A recent study conducted by mobile data company Onavo pointed to a rapid growth in popularity of mobile sports betting in the UK. According to the study, 4.3 percent of iPhone users have a sports betting app on their phone. It may not sound like a huge number, but consider the rapid growth of that betting sector and 4.3 percent could very well turn into 10 percent soon, and then 15 percent after that.
Colin Burrows from comScore, a digital research company, also commented on the rapid growth of mobile sports betting during the Mobile Gaming & Gambling Summit two weeks ago, telling the attendees that 30 percent of mobile gamblers in the UK access gambling sites at least once a day while 54 percent do the same at least once a month. Again, these numbers likely represent just the tip of the iceberg and are likely to increase with the continued growth of online sports betting.
But far more than the percentages of people becoming more and more accustomed to mobile sports betting, sportsbooks have also reaped the benefits of the new innovation. The same Onavo study mentioned above also found out that a lot of sports betting sites in the UK have successfully transitioned their businesses into the mobile world, so much so that for every month, Onavo said that UK customers use the Bet365 app an average of 5.6 days every month with William Hill users doing the same for their app at an average of 4.1 days a month.
When people say that mobile sports betting is the fastest growing sector in the U.K. real-money gaming market, there's no tinge of hyperbole or exaggeration in those words. It's not uncommon these days for an online sportsbook to receive a significant chunk of bets from mobile devices. William Hill, for one, reported that 34 percent of all the bets it took in the first quarter of the year came from mobile devices, a staggering 298-percent increase from its numbers in the same time in 2012.
Irish bookmaker Paddy Power is also raking in unprecedented revenues through mobile sports betting, raking in €104 million in the first half of the year. More impressive is Paddy's mobile turnover, which rose 50 percent to €535 million, signifying 51 percent of the operator's sportsbook handle.
Paddy Power is one of many online sportsbooks that have taken full advantage of the mobile sports betting revolution. When access is literally at the palm of your hands, there's no telling how big of a future mobile sports betting is going to have moving forward. But if you're going to ask somebody like Paddy Power CEO Patrick Kennedy, his belief that mobile would account for 90% of industry growth over the next six years is something nobody can just sweep under the rug.
While technically still an estimate, it still goes to show that even with the current rise of mobile sports betting, there's a good chance that with continued innovation, we're only looking at the start of something that could ultimately change the landscape of online gambling forever.
Comments