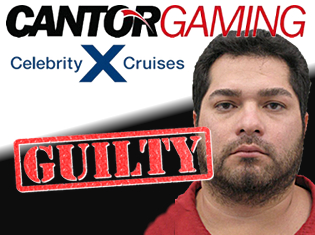 Famed sports betting figure Billy Walters earned a victory of sorts on Thursday after a man pled guilty to stealing nearly half-a-million dollars from Walter's ACME Group Trading. In August 2011, Ezekiel Rubalcada (pictured) was indicted on felony theft and burglary charges after $483k went missing from a betting account held in ACME's name at the M Resort sportsbook in Las Vegas. Prosecutors claimed Rubalacada made 16 unauthorized withdrawals from the account, then allegedly staged a carjacking to explain the money's disappearance.
Rubalcada was listed as a partner in ACME but his primary function was widely believed to have been to act as a 'messenger bettor' who placed Walters' wagers. Walters has been a vocal critic of modern Vegas sportsbooks, which he claims are far more reluctant to take his action than some international online sports betting sites. Originally facing a total of 33 charges, Rubalcada pleaded not guilty at a September 2011 hearing but subsequently reached a deal with prosecutors to plead guilty to two counts of felony theft, each of which carries a maximum penalty of 10 years in stripes. Rubalcada will learn his fate when he's sentenced on Jan. 30.
Meanwhile, the one Vegas book that Walters does like, Cantor Gaming, has just inked a deal with high-seas vacation purveyors Celebrity Cruises. Cantor has agreed to supply its mobile casino product to the cruise liner's fleet, enabling the newlywed and nearly dead to enjoy some slots, video poker and casino table games on their personal smartphones and tablets in between trips to the buffet table. Passengers can fund their virtual wallet at the ship's casino desk, but any actual mobile casino play will be limited to periods in which the ship is sailing on international waters.