It's been a busy week on the US online gambling rumor, conjecture and hearsay front. The fun began mid-week with Press-Enterprise reporter Jim Miller tweeting that California Senate pro tem President Darrell Steinberg wasn't optimistic about any of the Golden State's online poker bills making it through the final month of the current legislative session, which commences Monday (12) and concludes at midnight on Friday, Sept. 13. Despite suggestions this spring that the state's perennially combative Indian tribes were unifying behind a single piece of legislation, sufficient differences of opinion appear to remain among the state's tribes, cardroom operators and horseracing tracks to ensure legislative efforts stay mired in the 'divided we fall' camp.
On Friday, multiple sources began making claims about movement on the federal level. Anthony Curtis' Las Vegas Advisor site reported that Senate Majority Leader Harry Reid (D-NV) was readying yet another poker-only bill with the aim of bringing it to the Senate floor for a vote "before the end of the year." The site also claimed that "integral to the plan is a compact between Nevada and New Jersey that would establish a joint online-governing body between the two states."
Around the same time, Global Gaming Business' Roger Gros tweeted that a "high-ranking source" claimed Reid was prepping legislation to "tighten" the 1961 Wire Act "to make intrastate igaming illegal if fed bill fails to pass." Gros' info, which came on "deep background," claimed Reid was "determined to stop intrastate gaming, particularly in [California]."
Not to be outdone, PokerNews' managing editor Brett Collson tweeted that a "high-ranking gaming exec" had informed him that Las Vegas Sands boss Sheldon Adelson had "supposedly switched his position on internet poker" and was now backing Reid's federal poker-only efforts. As with Gros' claims about Reid's motivation, Collson claimed Adelson had "hired lobbyists against California's web poker bill." Collson also claimed that New Jersey Gov. Chris Christie was "allegedly going to support Reid's bill," which Collsson suggested would make its debut "if and when California's legislation fails."
HARRY GETS HIS CLAWS OUT
So what to make of all this? Given the molasses-in-January pace of California's online poker legislative process, Reid and Adelson's urgency in placing further obstacles in the state's path appears unwarranted. On the other hand, Reid's desire to pass Nevada-favoring federal legislation is hardly a secret, and the prospect of Republicans regaining control of the upper chamber in the 2014 midterm elections means Reid may feel it's 2013 or bust. The GOP only needs to flip six Senate seats to gain control, and of the 35 seats in play in 2014, 21 are currently held by Democrats. Of these, five incumbents are retiring, creating open races.
Reid's alleged desire to strengthen the Wire Act would require New Jersey and Delaware to walk back their respective intrastate legislation, which, unlike Nevada's poker-only system, allow online casino gambling. New Jersey is set to launch its online program in mid-November, while Delaware is aiming at a late-September launch, so Reid's bid to put adamantium-quality teeth into the Wire Act before year's end would appear to be a race to beat these states' efforts to change the facts on the ground.
But even if Reid won that race, it's dubious to assume the states would choose to abide by a federal edict on what is a purely intrastate matter. Reid might sweeten his offer by proposing that states that have already passed online gambling legislation be grandfathered in under the new federal plan, but this is the exact type of state favoritism that New Jersey has so vociferously argued against in its bid to declare the Nevada-favoring federal PASPA sports betting prohibition unconstitutional. Even if New Jersey were to twist itself into such a hypocritical pretzel (hypopretzical?), the other states currently contemplating their own intrastate legislation would raise holy hell.
SHELDON'T GO THERE
It's true that Adelson's widely circulated op-ed in Forbes this June suggested that Congress do a Wire Act rewrite, but Adelson's alleged willingness to accept the legalization of online poker to gain an explicit federal ban on online casino games would represent a rare concession from the habitually all-or-nothing businessman. Remember, only a day after his Forbes op-ed, Adelson told Bloomberg that poker was "one of the most addictive games." Adelson went on to suggest "people do not get addicted to necessarily playing blackjack. They get addicted for the game."
As for the business about Adelson lobbying hard to keep California offline, Adelson has no commercial interests in the state that would be threatened by online poker. Furthermore, the tribes have expressed zero interest in compacting with other states, so like Vegas, what happens in Sacramento will stay in Sacramento. However, the Sands-funded StopInternetGambling.com site identifies legislative efforts in California as one of the key battlegrounds in which the pro-online-gambling hordes need to be defeated, so perhaps Adelson's simply that obsessed and/or vindictive.
JESUS, CHRISTIE…

As for Christie's alleged eagerness to back Reid's strengthening of the Wire Act, as mentioned above, that would come at the direct expense of his own state's soup-to-nuts online gambling legislation, which has broad support in both legislative houses and among the general public. But Christie did travel to Las Vegas last week to attend a private fundraiser hosted at Adelson's Palazzo property. After all, Christie is already a frontrunner for the GOP presidential nomination in 2016, and Adelson is the GOP's top sugar daddy.
But 2016 is three years away, and Christie is up for reelection as governor in his home state this November. While Christie appears a shoo-in for reelection, any visible support for removing a revenue stream from Atlantic City's struggling casinos would provide no shortage of uncomfortable soundbites during gubernatorial debates.
STEVE'S WYNNING WAYS
While not specifically addressed in this week's rumors, we'd like to bring Wynn Resorts into the mix. In June, Adelson claimed Wynn chairman Steve Wynn was "not totally against what I am saying" regarding online gambling's ability to vaporize little fluffy kittens with a single mouse click. Last October, Wynn said Reid's plan to legalize online poker while banning online casino games was "an intelligent position." But Wynn also described Reid's efforts to get online gambling legislation through a do-nothing Congress as a "waste of breath" because gambling is "a state issue."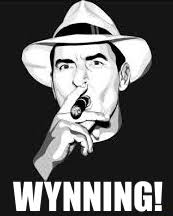 And Wynn appears to be hedging his online bets at the state level. On July 11, Wynn Interactive LLC filed papers in New Jersey to participate in the Garden State's online market, despite the fact that Wynn has no land-based operations in Atlantic City and no active online gambling operation in any other jurisdiction. (For what it's worth, Paddy Power North America has also submitted New Jersey paperwork, despite its similar absence of a local tie-up.)
So let's start a fresh rumor that Steve Wynn is about to break out his checkbook and buy an AC casino. While the Atlantic Club began life over three decades ago as a Wynn-owned property, the joint has seen better days, and probably doesn't jibe with Steve's notoriously up-market tastes. So let's say Wynn is planning on buying the more luxurious Revel, then striking an online partnership with, oh, let's say US Digital Gaming, because poor Skip Bronson's outfit has so far gone 0 for 50 in striking intrastate deals, so they're totally due. Oh, and they'll convince Charlie Sheen to end his self-imposed ban on gambling and hire him as spokesman, while his signature catchphrase will be modified to read: "Duh… Wynning!"