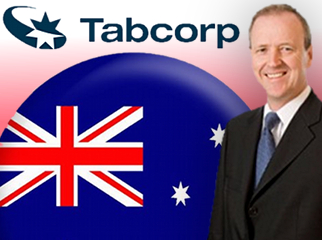 Australian corporate bookie Tabcorp saw profits slump 63% in its 2012/13 fiscal year, laid low by multiple changes to the state of gambling in the state of Victoria. Tabcorp earned profits of $126.6m in the 12 months ending June 30 as revenue dipped 30% to $2.13b and earnings fell 4.3% to $312.8m. Despite the profit plunge, CEO David Attenborough (pictured right, not to be confused with the nature-loving broadcaster) described Tabcorp's fiscal year as "successful," given that the company had been "managing significant change to our business portfolio and navigating challenging external trading conditions."
Chief among those significant changes was the loss last August of the Victorian video poker (pokies) duopoly Tabcorp shared with Tatts Group. Both companies subsequently sued Victoria for hundreds of millions of dollars (variously described as 'compensation' or a 'refund' of the original concession fees paid back in the 1990s). While those suits are still pending, the month of June saw both Tabcorp and Tatts successfully beat back Victoria's attempt to ding them for a full year's worth of pokies levies, despite each firm only operating pokies in the state for the first 46 days of the financial year.
The past 12 months were also negatively impacted by the signing last August of a new Victorian Wagering and Betting License, which called for a new 50/50 revenue split rather than the more lucrative 75/25 split Tabcorp enjoyed under the old deal. On a positive note, Tabcorp extended its retail wagering monopoly in New South Wales to 2033 and its Queensland Keno license to 2047, renewals that have "substantially derisked" Tabcorp's outlook. The year also saw the launch of Tabcorp Gaming Solutions (TGS), which helps licensed gaming venues with things like marketing and machine procurement.
Tabcorp's overall wagering revenue fell 4.8% to $1.56b, while earnings fell 12% to $255m. But fixed odds revenue continued to impress, rising 25.8% to $404.2m. Another star performer was Luxbet, Tabcorp's Northern Territory-licensed bookmaking offshoot, which saw revenues rise 40.1% to $39.1m. Meanwhile, Tabcorp's contribution to Australian racing totaled $664.6m over the past 12 months.
Tabcorp's retail TAB betting turnover in NSW fell 1.1% to $3.87b, while retail TAB turnover in Victoria fell 4.7% to $2.9b. In sharp contrast, online wagering turnover rose 13.6% to $2.45b, thanks to a robust mobile product that accounted for 43% of digital handle in fiscal H2 (up from 28% in H1). Tabcorp's mobile app, which is available for both iOS and Android, has been downloaded over 900k times. TAB garners 70% of its account deposits via retail outlets, while 23% of customers switch between retail and online wagering.
(In July, Tabcorp inked a five-year deal with Aussie telecom outfit Telstra to power Tabcorp's online, mobile and live wagering services, self-service betting kiosks and other digital content. The deal provides Tabcorp access to Telstra's Next G and Next IP networks, digital video network and video conferencing. Tabcprp CIO Kim Wenn said the betting outfit had needs for "flexibility, reliability and speed-to-market with rich media content distribution" that only Telstra could provide. Tabcorp has the option of extending the deal a further five years.)
Keno, Tabcorp's lottery business, saw revenue up 12.2% to $205.4m and earnings up 23% to $75m. TGS contributed $86.3m in revenue and $58.3m in earnings during its 45.5 weeks of operation in the past 12 months. Tabcorp's Media and International division saw revenues rise 9.1% to $207.6m and retaining the NSW and Victoria thoroughbred media rights – which expire Aug. 31 – has been pegged as a Tabcorp priority, along with managing to avoid being acquired by William Hill.