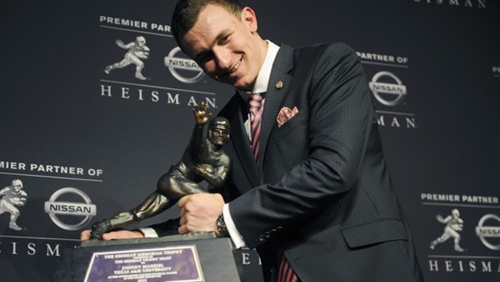 Sports betting odds for the college football's Heisman Trophy award took a dramatic shift after Johnny Manziel's odds fell in the wake of allegations that he may have violated NCAA rules regarding compensation he may or may not have received for signing autographs for a noted autograph broker.
With a tumultuous off-season that saw Manziel embroiled in one controversy after another, Johnny Football is no longer the apple of sportsbook's eyes. Manziel did catch the NCAA's eyes and we all know all too well that when the NCAA gets involved, it usually doesn't end too well for the athlete.
That's precisely why sportsbooks have dropped Manziel's chances to repeat as the Heisman Trophy winner, a clear indication that trouble may be brewing for the young quarterback ahead of his second season as the quarterback for Texas A&M.
Manziel was initially penciled in as the favorite to win the Heisman at 5/1 odds. But with this recent report that he may have been compensated five figures by autograph broker Drew Tieman in exchange for signing autographs, sports books are beginning to express concern that Manziel could very well be made ineligible, which in turn could force him to miss the entire season and putting an inglorious end to one of the most polarizing college football players since Tim Tebow.
That's largely the reason why his odds to win the Heisman for a second year in a row have dropped to 15/1 odds with Ohio State quarterback Braxton Miller vaulting to the top spot at 5/1 odds. South Carolina defensive end Jadeveon Clowney now sits a close second at 6/1 with Alabama and Oregon running backs TJ Yeldon and De'Anthony Thomas close behind at 8/1 odds each, respectively.
The NCAA investigation surrounding Manziel also turned numerous betting odds on the college football season upside down, especially for the Aggies, whose BCS Championship title hopes now sits at 33/1 compared to 12/1 before these developments.