Quizzing Grafton and McCorkell on the Merits of the Ambassadors of Poker Audio
Yesterday, I penned an article entitled '
What is the point of an ambassador of poker
?' in reaction to the recent unveiling of 14 such branches within the family tree of Full Tilt Poker (FTP). I suggest you read that before listening to this, but if you are lazy like me then let me break down the crux of that article.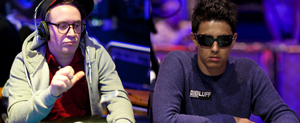 I believe that FTP is blindly following the 'How To' manual that most new online poker sites follow when they enter the market.  Part and parcel of any new online poker site is the appointment of a number of 'team pros' and their job descriptions vary, but in general the intention is to represent the brand in such a way that brings value to the company hiring them.
I think this model, although great for the poker professional, needs some serious scrutiny. The former FTP model of 'come play with the pros' was based on the ethos and lure of the superstar poker player and it worked perfectly. I believe the recent appointments are a backwards step, and could actually tarnish the brand by giving this a cheaper feel. I think it's nothing more than cheap labour designed to push a message to a tour that doesn't need any pushing.
But what do I know?
So instead I decided to grab hold of the lughole of one of the men of the moment and ask his opinion. Back in 2012, Craig 'mcc3991' McCorkell was the only UK-based player to return from the World Series of Poker (WSOP) with a gold bracelet stuffed in his lunch box. Two nights ago he became the proud owner of $104,690 when he won the PokerStars marquee weekly event The Super Tuesday. If anyone would have an opinion McCorkell would.
As an added bonus the meek and mild Sam Grafton was also hanging around McCorkell's bedroom at the time CalvinAyre called, something that Grafton has a penchant of doing; two men, sweating their nads off in a tiny bedroom in London. I couldn't think of a better setting to discuss the merits of the FTP Ambassadors.
Let's get it on.
Comments