The smoking area is a great place to find an interview or two. Even people who hate the smell of smoke seem to congregate there. I'm looking for Daniel Cates. The Jungleman had promised me an interview but I can't seem to find his vine. I spot Shaun Conning, who was sat on the Jungleman's table, and I ask him if he saw in which direction he had swung.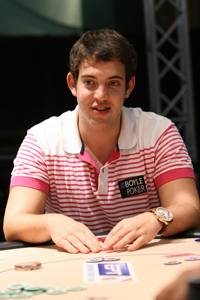 " I had him. He's out." Said Conning.
"Great Shaun…you've just blown my interview."
"Well you if you want to interview an old codger you can always interview me."
He's just about to get a microphone shoved into his face when Luke Schwartz walks into the pack.
"Sorry to interrupt, but are you working for PokerNews?" he asks.
"Not today." I reply.
"My friends are sweating me, my girl's sweating me, my dad's sweating…but how can they sweat me if I'm not in the chip counts?" Asks Schwartz.
Schwartz has always made me laugh ever since I first saw him play during my first ever-live reporting gig at EPT Vienna. He was encouraging everyone on his table to play their final hand of the day blind. This was a €5k tournament we are talking about; but Schwartz has a cocky, assurable charm about him and everyone agreed nonetheless. But the biggest laughter came when he was bagging up. He had somehow managed to get a 1k chip stuck in a beer bottle and the floor wasn't sure how to get it out.
"They never, ever update my chip count. I bet it's because I'm a has been." Said a half angry-half joking Schwartz.
Schwartz is no has been, but fatherhood may have turned him a little quiet. If he wants to get PokerNews to notice him, maybe he has to get back to the good old days. The days when people like Phil Hellmuth used to stand up and say 'Wow!'

As Schwartz races off to find, capture and kill a PokerNews blogger I bump into Ross Boatman. I am always a little awestruck when I meet Ross. When I was a kid he was one of the stars of my favorite show London's Burning; that and the fact that my mother used to fancy the arse off him. This time the TV cameras have chosen to direct their light at a different Boatman; Ross's brother, best friend and WSOP bracelet holder Barny.
"It was an emotional time for both of us. Presenting him with the bracelet was amazing and obviously winning it was fantastic. There were about 50-people on the rail. It was like watching a football match. Truly amazing." Said Boatman.
Ross has had his own fair share of WSOP final tables himself. But who cares! This is Kevin Medhurst. The fireman who used to pull his hosepipe out with the net result of a lot of wet women.
"It was a fantastic time for me. It ran from my early twenties until I was about thirty. It was a great time, I was in one of the biggest shows on TV at the time, 20 million viewers per week, girls throwing themselves at me and money pouring in, it was a fantastic time."