In September 2009, I qualified for the biggest event of my life. It was the £1,000 No-Limit Hold'em (NLHE) side event at the World Series of Poker Europe (WSOPE) at The Empire in Leicester Square.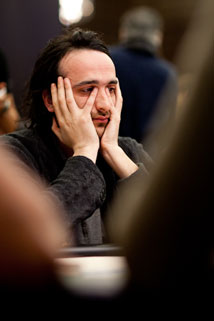 PokerNews called my table the 'Table of Death' and I think I was the only player who was referred to as the man on the button. I knew Chris 'Jesus' Ferguson, I knew John Juanda but I couldn't keep my eyes off the woman seated next to him. My friend later told me that it was Liv Boeree and two seats to her left was a WSOP bracelet winner called Davidi Kitai.
I eliminated Kitai. I called his 10BB shove holding ace-rag and I held on to eliminate the Belgian. For years I remember that moment when I see him at the tables. He hasn't changed one little bit. In fact, I am sure he wears the same clothes in every poker tournament he plays in.
Since 2009, Kitai has become a Triple Crown Winner after winning a WSOP bracelet in 2008, World Poker Tour (WPT) Celebrity Invitational in 2011 and the European Poker Tour (EPT) title in Berlin in 2012. Then just a few weeks ago he became the first Triple Crown Winner to add further gold to his pile with victory in Event #19 $5,000 Pot Limit Hold'em (PLH). So how is this man so goddam good?
"I have no idea. I try to play my best game. I get luck at the right times. I am born lucky…I am a lucky guy." Kitai told me during the break of the $5,000 Pot-Limit Omaha (PLO) event.  "I cannot do anything about bad luck. So I focus on my game and try and enjoy. I don't see it as a job. I see it as a passion."
He is always smiling and maybe that's his secret? To Kitai life is like the proverbial box of chocolates and there aren't any coffee crèmes in sight. His poker journey started out in 2003 when he came to America to learn to study English. He saw some commercials about poker on TV and headed to Sin City to play some limit games and hasn't looked back since.
"Eventually I mastered my poker…but not my English."
Kitai is the second Belgian player to wrap a bracelet around his wrist after Michael Gathy overcame Jake Cody and Jason Duval to win the $1k Turbo event. So what exactly have they put in the Belgian water?
"Belgium run good. I think we have a lot of great players…around 10 of us playing full time on the circuit…Gathy is coming from Brussels…like me. The Flemish guys in Belgium are also really tough in cash games and tournaments."
Like so many of the world's best, he seems completed devoted to his poker. So what does he do to take his mind of his passion when the cards settle down?
"I don't know. Normally, when I have good time I am completely drunk and cannot remember."
I bet he's one of the best in the world at that as well.