Tom Schneider has become the first player of 2013 to win two World Series of Poker (WSOP) bracelets, after adding Event #29: $5,000 H.O.R.S.E to Event #15 $1,500 H.O.R.S.E, once again showing the advantage mixed game players have when it comes to accruing WSOP gold.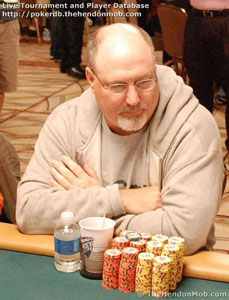 Ken Lind was proof positive of the importance of goal setting after he crossed off a bucket list action to appear at the World Series of Poker (WSOP) when he won the Seniors event for $634,809 just a few days ago. An event he wouldn't have even played in without first setting the goal to do so.
Professional poker players should all have goals that drive them to refine their art, to plough through a downswing and sail through an upswing. Goals should be S.M.A.R.T (Specific, Measurable, Attainable, Relevant, Time-Bound, Evaluate) and if you want to set a goal that involves winning a certain number of WSOP bracelets then there is only one smart way of doing this: you need to be a mixed game player.
The No-Limit Hold'em (NHLE) games are increasing in variance, in each passing year, as the fields keep growing into their thousands and the WSOP keep creating faster formats such as the $1k Turbo that takes place today. It may still be the most popular form of poker, but it isn't going to produce as much gold as the mixed games events.
When designing a poker player that has the ability to tussle with Phil Hellmuth, at the top of the WSOP bracelet charts, then a younger version of Tom Schneider wouldn't be a bad foundation from which to start squeezing clay. He has been playing poker since he was 10-years old, another classic example of a young kid receiving a card scholarship over the kitchen table after his Mum set him on his way.
"She was a horrible poker player, but she loved to gamble," Schneider once told PokerListings during an interview in his heyday of 2007.
It was in 2007 that Schneider became the WSOP Player of the Year (POY) courtesy of two WSOP bracelet wins in mixed game events, and a fourth place finish in another. Six years later and he has passed the bubble an impressive six times, winning both the $1,500 and $5,000 H.O.R.S.E events. He is the first player at the series to win two bracelets and has a great opportunity to be the first player to win two WSOP POY accolades.
"I'm exhausted…very tired…but delighted. It was as tough tournament and it seemed that everyone was a great player." Schneider told PokerNews sideline reporter, Lynn Gilmartin, after his victory in the $5,000 events.
At 54-years of age I am not about to write Schneider off as a player who doesn't have the biology needed to be one of the WSOP greats. Experience means so much in this game, but endurance and mental awareness are a key component's too.
I believe Matthew Ashton is a great example of the future of poker when it comes to the attraction of WSOP gold. He only has live experience dating back three years but has already collected over half a million dollars primarily in mixed game action. That's not a bad record when you consider that the prize pools are so much lower in the mixed game formats.
Ashton is young and has a developing poker mind. He is fit and healthy and can play exceptionally good poker in any format of the game. The lad is not going to tire easily and his hunger will not satiate. Put Ashton and Schneider together and you start to get the stock that makes a Phil Ivey; who must surely be the bookmakers choice for the player to one day rip that WSOP bracelet record away from Hellmuth's vice like grip.
Ivey has the money to play in every event the series has to offer, he is so good at the mixed games that he could probably beat himself in a game of solitaire, he is young; fit and healthy, and if he could get that hunger back and spend more time on the tables he would be eating mixed game WSOP bracelets for breakfast.
When the November Nine is cast in stone and everyone disappears for a much needed rest, Phil Hellmuth will still be the man holding the most WSOP bracelets, but it will be the mixed game players who will be making silent traction. Some of them like Schneider and Ivey will be seen coming a mile away, and others like Ashton will be gliding underneath the radar.
If you are a professional poker player and haven't set any form of goals, then you are a raft missing an oar. Get thinking about what you want to achieve and get your goals down on paper. Make them bold, make them brass but most of all make them S.M.A.R.T. And if one of these goals is to win more WSOP bracelets than anyone else on the planet, then the only S.M.A.R.T way to do this is by learning to become the most proficient mixed game player in the world.