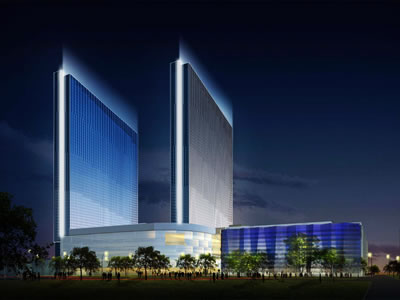 Out with the old; in with the new.
That appears to be the new (and long overdue) credo Revel is adopting after getting beat upside its head and getting sent to bankruptcy court. Atlantic City's supposed savior is ditching it's old "above-the-fray" mentality in lieu of one that now welcomes gamblers with the fervor and enthusiasm akin to someone learning its lesson the hard way.
So to mark its strategic about-face, Revel is beginning with a simple change. No longer will it be called by its one-word nomenclature. From here on out, it's Revel Hotel-Casino.
Revel's new strategy can't be better explained by the marketing theme it's adopting: "Gamblers Wanted".
It's a dramatic turn from its high-brow mentality when it first opened a little over a year ago. Back then, it wanted to be thought of as more than just a casino, even going so far as to insist it be called by a one-word name like Prince, Bono, or Cher. But after a year spent toiling in mediocrity, low lighted by a trip to bankruptcy court, Revel has apparently learned its lesson and is willing to do anything it takes to become the Atlantic City player people envisioned it to be.
One of its first moves has been finally allowing gamblers to smoke on its casino floor after a year of shunning the practice. That, of course, alienated a lot of casino patrons, who instead took their money to play on other casinos in Atlantic City, leaving Revel mired in the AC's casino revenue purgatory.
In addition to finally allowing smoking on its casino floor, Revel, or should we say, Revel Hotel-Casino, is also taking the unique step of offering 100 percent refunds of slots losses to anyone who signs up for a players' club card.
Revel CEO Jeff Hartman knows better than anybody the struggles the hotel had to endure in its first year of operation after taking over the helm earlier this year. That's why he's determined to make the most of those new lease in life. "Everybody deserves a second chance, and in order for Revel to earn one, we are offering a second chance to every slot customer," he said.
With this second chance, here's to hoping that Revel Hotel-Casino does make the most of it.
Better late than never, right?
Comments