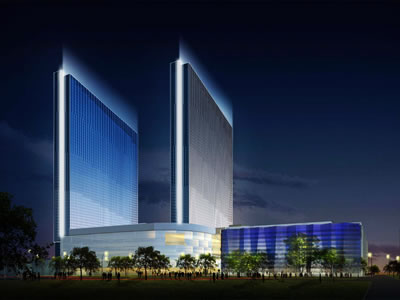 Give credit to Revel; they understand the mistakes they made and are set to do their part in trying to correct them.
Days after the the Atlantic City resort and casino received a lifeline when bankruptcy judge Judith Wizmur granted approval of its Chapter 11 restructuring plan, Revel hopes that it's not too late to rectify their past mistakes in an attempt to, effectively, start over.
"Everybody deserves a second chance," Jeffrey Hartmann, Revel's interim CEO, told The Mercury. "We're looking for a second chance. We are trying to listen to and respond to customers. We probably didn't do a great job of that last year."
Probably? No, Revel, you didn't do a good job. If you had, you "probably" wouldn't be in this mess in the first place.
To be fair, Revel owned up and acknowledged the mistakes they made a long the way, most egregious of all was not paying enough attention on the gambling side of business, specifically in slots, in favor of trying to establish itself as a hip-and-happening place that hosted A-list performers and celebrities. And the smoking ban in the casinos? Not so much of a good idea, too.
Yet despite all their blunders, Revel received some saving grace when the state Casino Control Commission approved Revel's reorganization plan, eliminating $1.2 billion of its $1.5 billion in debt by giving lenders an 82 percent ownership stake in addition to curing its interest payments by more than half to just $46 million from $102 million. That money will then be allocated towarrs operating the casino.
But with this second lease on life, Revel needs to be smart on how it can do better this time around. The first life was far from pretty; ghastly and abhorrent seem like better descriptions. It only took one year for the resort and casino to file for bankruptcy, unprecedented for a year-old establishment that promised so many and delivered pretty much next to nothing.
A lot of people aren't even convinced that Revel can get back on its feet, including Jack Adams, a deputy attorney general, who told The Mercury that without any significant increase in slot revenues, Revel won't get its feet of out of the mud.
There's a lot on the line here, including the 4,600 jobs that can be affected if Revel doesn't get its act together. And by 'act', we don't mean those headliners that the resort and casino worked so hard in getting while ignoring that part of the entire business that pays the bills.
Pay more attention to the gambling side, Revel. Otherwise, you'll sink further and further into that pit you created.
Comments