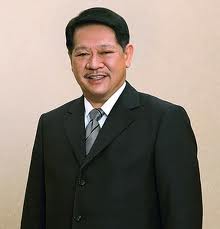 Former Pagcor chairman Efraim Genuino, together with six other former officers of the government agency, have been slapped with a total of 39 counts of graft and malversation.
The filing of the graft and malversation charges were done in the country's Sandiganbayan with Ombudsman Conchita Carpio Morales finding "probably cause" to hammer down 19 counts of  violation of Republic Act No. 3019, or the Anti-Graft and Corrupt Practices Act, and 20 counts of malversation.
According to the Philippine Daily Inquirer, Genuino is one of six individuals named in the filings, a list that also includes Rafael Francisco, Jose Benedicto, Rene Figueroa, Edward King, Ester Hernandez and Valente Custodio. All individuals are former Pagcor officers.
The indictments slapped on Genuino and his former cohorts stemmed from the (mis)promotion of the movie "Baler", of which the former Pagcor chief's foundation, Batas Iwas Droga Foundation (BIDA) was credited as a producer together with Viva Communications.
Ombudsman Morales signed the Joint Review Resolution last February, indicting the former Pagcor chief and several other Pagcor officials. According to the resolution, Pagcor's advance of Php26.7 million for 89,000 tickets to the movie priced at 300 each were contrary to the deal approved by Pagcor to offer movie tickets to casino patrons through its Player Tracking System points.
Of the 89,000 tickets, which the government paid for and were made to shoulder losses, only 16,850 tickets were used – 7,791 purchased by casino patrons, 6,253 bought by the public, and 2,806 sold to the public – leaving 72,150 unused tickets that were worth Php21.645 million plus Php474,510 in transmitted sales commission, totaling Php22,119,510, all of which were charged to Pagcor's operating expense fund. In short: government money.
The indictments on Genuino and the other Pagcor officials do come with bail, which was set at Php30,000 for each count of graft and Php60,000 or each count of malversation.
From here, the cases will be raffled off later this week to determine which division at the Sandiganbayan will handle the high profiles cases.