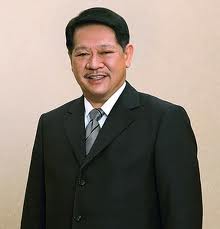 The dam finally broke for former Pagcor chief Efraim Genuino after the Office of the Ombudsman ordered the filing of numerous criminal cases against the embattled ex government official. The 43-page joint review, which was released to the public just last week, ordered the filing of multiple counts of malversation and graft against Genuino, the Philippine Daily Inquirer reports.
In addition to the elder Genuino, his son Erwin will also be charged for violation of Republic Act 6713 or the Code of Conduct and Ethical Standards for Public Officers and Employees.
The decision was meted down by Ombudsman Conchita Carpio-Morales who not only tagged the Genuinos, but also pointed to numerous other individuals of whom she found basis to file graft cases against. The names include: Rafael Francisco, Jose Benedicto, Rene Figueroa, Edward King, Ester Hernandez and Valente Custodio. All six individuals were deemed to have misused Pagcor funds for the promotion of a 2008 local movie "Baler" and for the Batang Iwas Droga Foundation (BIDA).
With regards to the issue surrounding Pagcor's involvement in the production and distribution of the movie, Morales pointed to business losses involving Pagcor's purchase of 89,000 movie tickets at Php300 for each ticket with a total amount of Php26.7 million. But records from Pagcor showed that of the 89,000 tickets that were purchased by Pagcor, only a handful of tickets were either bought by casino patrons, sold by Pagcor branches to the public, and sold to employees through salary deduction. Of the 89,000 tickets, 72,150 were deemed unsold, accounting for an amount of Php21.645 million, excelling transmitted sales commission and advertising expenses.
Another egregious example of Pagcor's misuse of its funds under the Genuino stewardship was the use of more than Php50 million by the BIDA organization's campaign for a party-list seat in the House of Representatives back in 2010. According to Morales, transactions in excess of the aforementioned amount were used by BIDA to purchase a host of items that were used as campaign materials using, again, Pagcor's funds.
It's a damning picture of the kind of power trip and corruption that Genuino's tenure as Pagcor chief has been painted as since allegations of impropriety surfaced a few years ago. And now that the Office of the Ombudsman has meted its decision to file multiple criminal cases against the former Pagcor top dog, it's only a matter of time before Genuino and all the other accused are forced to face the music.
Comments