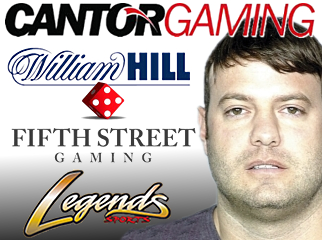 The US division of UK bookies William Hill has agreed to provide a sportsbook for the Downtown Grand Casino and Hotel in Las Vegas. The Grand's developers, Fifth Street Gaming, announced the signing of a long-term contract with William Hill US last week. The new joint is due to open in September in the Downtown3rd pedestrian district and will feature a storefront resembling one of Hills' UK betting shops. Inside, bettors can serve themselves at a betting kiosk or investigate the mobile marvels of Hills' iPhone, iPad and Android betting apps. Hills operates over 160 sports betting locations in Nevada, handles the state of Delaware's parlay wagering system and just inked a prospective sports betting deal with New Jersey's Monmouth Park racetrack.
Hills' main rival in Nevada is Cantor Gaming, which earned praise earlier this month by releasing odds for the first 16 weeks of the upcoming NFL season almost as soon as the draft was over. But before September's kickoff, there's the little matter of former Cantor VP Mike Colbert (pictured right), who was arrested last October and charged with conspiracy, money laundering and enterprise corruption related to his (alleged) use of international online sportsbook Pinnacle Sports. Colbert has pled not guilty to the charges and has a court appearance in New York on June 18. Meanwhile, the Nevada Gaming Control Board continues its investigation into Cantor's potential knowledge of and/or involvement in Colbert's activities.
Outside Nevada, key figures in the US government's prosecution of Panama-based online sportsbook Legends Sports had court appearances in the Western District of Oklahoma. On Friday, Spiros 'The Greek' Athanas pled not guilty to conspiracy charges and was released on bond after surrendering his passport. Attorney Robert Goldstein told Bookmakers Review that Athanas "maintains his innocence in the strongest possible terms." Legends CEO Bartice 'Luke' King had been scheduled for release after posting a $2.5m bond, but Assistant US Attorney Susan Dickerson Cox filed to revoke the release order on the grounds that King was a flight risk. The judge sided with the feds, revoked the order and set a June 3 hearing to consider keeping King in custody until the trial.
Comments