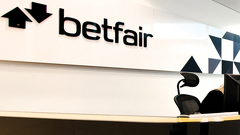 There were already markings on the sand; if private equity group CVC Capital Partners had any chance of buying out online betting exchange Betfair, the former would have to improve on its  £912 million ($1.4 billion) offer. But after weeks of back and forth, including CVC increasing its offer to £985 million ($1.508 billion) at 950p per share, the potential takeover has finally met its death knell.
According to the Guardian, CVC's new proposal to buy out Betfair was still deemed "too low" by the latter's board and didn't represent adequate value for a company that's currently valued at around £834 million ($1.271 billion). At least that's what company chairman Gerald Corbett is singing after being quoted by the Guardian saying that Betfair's board has spent enough time to assess all the offers on the table before deciding that that CVC's final price still wasn't enough to force the board to pull the trigger.
"The board concluded that none of the proposals represented adequate value or acceptable execution risk," Corbett said.
With the CVC deal off the table, Betfair will, at least for now, soldier on in trying to re-establish itself as a serious player in the online gambling industry. When it opened its IPO at the London stock exchange three years ago, the company's share prices have dropped precipitously from  £13 per share all the way to barely £10 these days. Its opening IPO of £13 per share initially saw some healthy returns at the end of its first trading day. But those days are a distant memory now and the company's stocks haven't come close to hitting a pound per share in the past year or so, hitting as high as 947.5p per share during in-day trading.
It also looks like Betfair isn't budging from its position so unless CVC comes with what the former can deem as a 'fair offer', there doesn't appear to be  lot of options left on the table for a potential buyout of Betfair by CVC Capital Partners
Comments