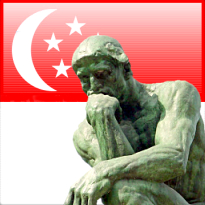 Despite Singapore's lofty status as one of the premier gambling hubs in Asia, the country is still bent on minimizing local residents' ability to gamble at the casinos, doling out fines and violations to anybody who breaks its rules. Last year, the government even took steps to amend its Casino Control Act, adding new provisions designed to protect its locals from visiting its casinos, including but not limited to visiting limits.
But casinos aren't the only gambling avenue the Singapore government is looking at putting the shackles on. Online gambling is another one, and according to Second Minister for Home Affairs and Trade and Industry S Iswaran, the government is continuing to look at ways on how to address and deal with the rise of online gambling.
At the Casino Regulatory Authority's (CRA) annual workplan seminar, Israwan made no bones about what he thinks about online gambling, calling it a "potentially more addictive form of gambling" that has to be addressed in order to protect minors and vulnerable groups in Singapore.
The growth of online gambling in various countries in Asia has made it a little trickier for Singapore to completely eradicate its access. Israwan himself admitted that with the complex and rapidly evolving landscape of online gambling, it would be difficult to force people to keep their hands off of it. The country, though, is taking concrete steps on the issue, which for them, marks as progress. Late last year, Singapore's Casino Regulatory Authority entered into an info-sharing arrangement with their counterparts in Alderney, whose focus is almost entirely in the online realm. As it stands, the Singapore government is still looking at other options on how to address what for them is an issue of high-priority.
While no timetable has been set on concrete steps the government plans to take, Iswaran did say that the government is working with industry experts to study the issues while also tapping into the experiences of other jurisdictions in order to come up with a better battle plan on how to address online gambling that, in his words, would be "effective, relevant and sustainable".
We can only guess where these discussions will end up going to, but from the way Singapore has shown resolve in protecting its own from the so-called "potential dangers" of online gambling, we won't be surprised if it takes steps to completely block any gambling website from entering its cyberspace.
Comments