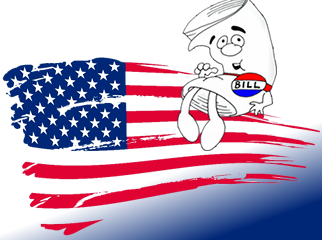 The recent fast & furious actions by legislatures in Nevada and New Jersey to position their states as hubs for US online poker networks has roused other states into realizing that the world is moving on without them. On Wednesday, West Virginia Lottery director John Musgrave said online gambling was "the way of the future" and state politicians "need to discuss it." While West Virginia has not been shy about expanding gaming options such as racetrack video lottery and table games, Musgrave told the Charleston Daily Mail that when it came to online gambling, "we're a little bit behind right now. There's really going to be a shift in the way that we do business and we've got to participate in that."
Meanwhile, out in California, there are two online poker bills waiting to be debated this year. State Senate President Pro Tem Darrell Steinberg denied rumors that he was behind a potential third bill that would have tribal backing, telling the Associated Press he was "not authoring a bill. No. N-O. Underline. No." (So… maybe?) Steinberg said his lack of enthusiasm for legislating online poker stemmed from the unending friction between the state's gambling interests (tribes, card rooms and horseracing tracks). "There needs to be a willingness among the stakeholders to come together and decide if they want this in California or not."
IOWA BILL MAKES PROGRESS, BUT DANGER LURKS AHEAD
Iowa has had a few run-ins with online poker legislation over the past couple years, all of them backed by state Sen. Jeff Danielson. His most recent effort, Senate Study Bill 1068, cleared a Senate subcommittee by a vote of 2-1 on Thursday, allowing it to proceed to the State Government Committee for further consideration next week.
As in the past, Danielson's bill may clear the Senate but will likely go down to defeat in the Republican-dominated House. House State Government Committee chairman Guy Vander Linden said he was willing to take a look at the bill, although "it might be a short look." Thursday's lone 'no' vote came via Republic Sen. Randy Feenstra, whom the Globe-Gazette quoted thusly: "It should not be government's arena to approve the degradation of our society." Feenstra apparently hasn't changed his views since 2011, when he described online gambling as having "the highest addiction rate of anything." (Except maybe hyperbole.)
It's not just House Republicans who lack enthusiasm for Danielson's pet project. The Des Moines Register commissioned a poll in which just 24% of 802 Iowa adults said they supported legal online gambling, with 73% opposed. A similar poll conducted last year found 28% supported online gambling and 69% opposed. Danielson criticized the poll, saying the question should have (like his bill) restricted itself to online poker rather than all forms of gambling. Like most Americans, Iowans can already place online wagers on the ponies, but that apparently doesn't count as gambling, because horses are in the Bible, or something.
Comments