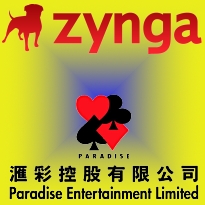 Solution Champion Ltd., a British Virgin Islands-registered subsidiary of electronic gaming systems maker Paradise Entertainment Ltd., has paid Paradise chairman Jay Chun HK $470m (US $60.6m) to acquire five US patents and six pending patents. The patents are related to multi-terminal gaming systems and signal a forthcoming US push by the Asian gaming firm to sell electronic baccarat, roulette and sic bo machines in Nevada, Mississippi, New Jersey, Pennsylvania, California, Connecticut and Florida, according to the regulatory filing with the Hong Kong Stock Exchange. As a result of the deal, Chun will see his Paradise holdings rise from 10.14% to 71.12%, necessitating an offer by Chun to acquire the remaining shares in the company.
Last May, another Paradise subsidiary, LT Game, ratcheted up the three-year-old patent dispute with Shuffle Master Asia Ltd., a unit of US gaming device maker SHFL Entertainment, by filing an injunction against SHFL on the floor of the Global Gaming Expo Asia. That led to Macau Customs officials filing a criminal complaint against SHFL, prompting SHFL to file an appeal of Paradise's injunction in November, which was originally rejected, then upheld by Macau's Court of Second Instance in late December. Macau Business Daily reported that Paradise's Hong Kong filing references the patent brouhaha, but doesn't clarify whether the US patents it was acquiring were the same that prompted the SHFL spat. Meaning this fight will likely now move to another legal jurisdiction, pleasing no one but copyright lawyers.
ZYNGA BUYS GAMBLING PATENTS FROM TROLL?
In other patent news, social gamers (and soon to be real-money gamblers) Zynga have been going on their own patent binge. Last February, Envision IP reported that Zynga held but a single US patent, with nine applications waiting in the notoriously long queue. Since that time, Zynga has upped its US patent total to 89, with 36 more pending. Some 38 of these patents – 33 of which are directly related to gambling technology – were acquired from Walker Digital LLC, a well-known patent troll that sued Zynga (the first time) in January 2011. (Maybe that explains why Zynga's broke.)
Walker is run by Jay Walker, founder of Priceline.com, although since leaving that company in the wake of the 2000 dot-com bust, his principal source of income appears to be acquiring intellectual property patents, then filing nuisance infringement suits against companies such as Apple, Amazon, eBay, Facebook, Google, Microsoft, the Multi-State Lottery Association (Powerball) and over 100 other notable (and deep-pocketed) names.
To get an idea of Walker's chutzpa, he claims Facebook's 'friend' function – or, as Walker calls it, "method and system for establishing and maintaining user-controlled anonymous communications" – is his baby, so pay up, Zuckerberg. Believe it or not, Walker subsidiary Walker Digital Gaming is responsible for developing a three-dimensional, verifiable product you can actually see with your own eyes: the radio frequency identification (RFID) Perfect Pay baccarat table. But Walker apparently can't resist the urge to troll it up and Zynga apparently gave Walker his pound of intellectual property flesh.
So what does Zynga do with these patents now? Is this going to be a case in which the bullied becomes a bully, filing its own nuisance suits against its competitors in the hopes of establishing a new revenue stream? (Cuz everyone knows the Bwin.party tie-up isn't going to make anyone rich.) We certainly hope not, considering Zynga put its name – along with Google, Facebook and others – to an amicus curiae brief filed in December urging the US Court of Appeals for the Federal Circuit to toss future lawsuits based on vague, abstract computer concepts that may or may not even mention the word internet in the patent filing. The companies are asking the courts to apply a more discerning eye to the early stages of the patent litigation process to reduce the "extraordinarily high litigation and settlement costs" companies must bear in defending themselves against such dubious patent claims.
A nice sentiment, perhaps, but it's no longer Christmas, and we've long since disabused ourselves of this 'good will toward men' malarkey. We anticipate patent and copyright trolls like Walker, Paul Allen, Scott Lewis, Surfcast, Stevo Design, Steve Gibson and their ilk will continue to unnecessarily clog up the court system with their shakedown tactics. That is, until our patent application for 'method and system for verbalizing complete and utter bullshit in a shameless bid to extort financial compensation from others" is approved.