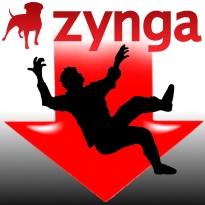 Embattled social gaming developer Zynga has taken the latest measure in their cost-cutting plans by shutting down a handful of their games, pulling other games from app stores, and ceasing to accept new players on another one of their games. The move was made so that the company can recalibrate its operations by reallocating more of their resources to more successful games.
Tech Crunch reported that in all, 11 games were affected by Zynga's latest swipe of its proverbial guillotine, hitting PetVille, Mafia Wars 2, FishVille, Vampire Wars, Treasure Isle, and Montopia the hardest, all of which have been shut down. FishVille, Vampire Wars, and TreasureIsle were all closed down last December 5, followed by Montopia, which was shut down on the 21st. The latest casualties, PetVille and Mafia Wars 2, were closed down on December 30.
In addition to all the games that have effectively been buried in the sand, Zynga also pulled a number of its games from app stores, including Mafia Wars Shakedown, ForestVille, and Mojitomo. Meanwhile, Indiana Jones Adventure World has been closed to new players and will be shut down on January 14.
This latest round of games lay-offs isn't all that surprising considering that Zynga is desperately trying to right its ship after a tumultuous year that saw its share plummet to less than a quarter of its IPO value just one year after going public. The games are far from the only ones that have perished from the company's deep set of cost-cutting measures. They've already laid off a huge number of employees and are expected to shut down business offices in key countries, all while focusing their attention on new frontiers, including entering real-money gambling with their highly publicized partnership with bwin.party.
Tough situations call for tough decisions and shutting down all these games can be classified as such. In an effort to soften the blow of their heartbroken gamers, the company is offering free bonus packages of virtual goods on anyone of their flagships. It seems like a consolation price for those who spent years on end playing those games that just had their funeral marches.
But for Zynga to have the kind of rebound year it wants to have, it needed to cut the deadweight before it caused them to sink further into the depths of irrelevancy.
Comments