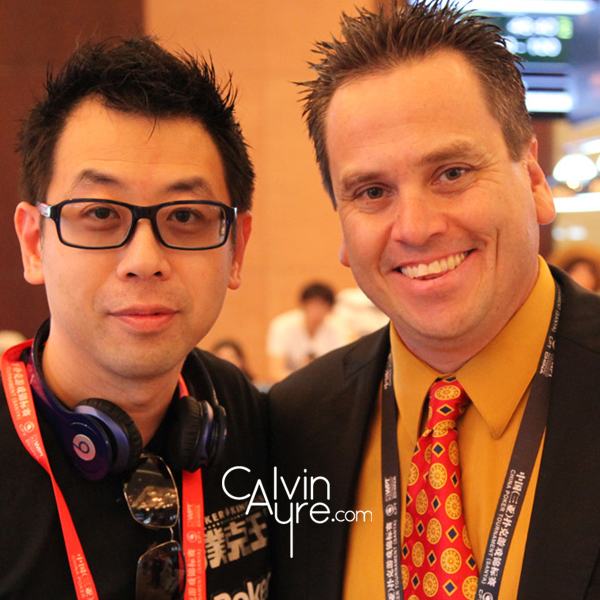 277 players sat down at the tables in the MGM Grand Sanya conference room for the start of Day 1B of the WPT National China. The event was sold out weeks before it started and has attracted a surprising amount of contestants. Amongst many of the local pros, we saw McLean Karr, Jay Tan, Winfred Yu. Checkout Tatjana's WPT China Day 1A summary here. 
As the tournament director, Matt Savage, said his famous "shuffle up and deal", the rail was waiting for one pro in particular to show up. Known for being fashionably late, Phil Helmuth strolled in two levels before the dinner break. Was it a bad decision? It might have been as he was out before he could even order dinner.
"Man, some of the most beautiful women are playing in this tournament!" – I overheard as I was going through rows of the tables filled with players. It was true; the girls that are here know what they are doing. China loves poker and has been preparing for this type of event for a long time.
We caught up with Johnny Chan, one of the most famous Chinese poker players in the world. As he chilled, sipping on his coconut, Johnny held a press conference answering questions about poker to the local media.
Tatjana Pasalic: What is the difference between playing poker in China and in the USA?
Johnny Chan: Number one, the style is different. Number two, I never played poker in China until this tournament; this is my first time. I am surprised at how many good players are here in China. Young, strong, a lot of unusual style, bluffing…In Macau, there is a lot of good Chinese players, a lot of good European players, American and they all mix but over here, in this island, this tournament, it is amazing how many good players are here.
Tatjana Pasalic: Are you treated differently in China than you are in the USA, Europe?
Johnny Chan: You know what, it's all the same – everybody wants a picture, everybody wants and autograph, which I enjoy doing and I feel great!
Tatjana Pasalic: Is Mainland China going to be the new hot spot for poker in Asia?
Johnny Chan: Put it this way – that is one of my hopes. I hope the government opens the door and makes poker as a sport. This way we can have a competition from around the world. Maybe some day, who knows, poker will be in the Olympics!
Tatjana Pasalic: What are your tips for the young Chinese poker players that want to succeed nowadays?
Johnny Chan: First of all, they need to practice. When I first started, back in the 70's, there was no computers. Nowadays, they have computers, laptops, they can play 10 000 hands a day. Back then I would be lucky if I played 500. So, already they have 20-30 times more practice than I did. Poker is like any other sport – the more practice, the better you are going to get. It is the same like basketball, kung fu, even swimming.
Unfortunately, Johnny busted the first day and will not be seen at the day 2 of the event, but there are many great pros left to root for. Such fierce competition is a big challenge for a young local Bodog qualifier, Gary, who is very excited to be a part of this event.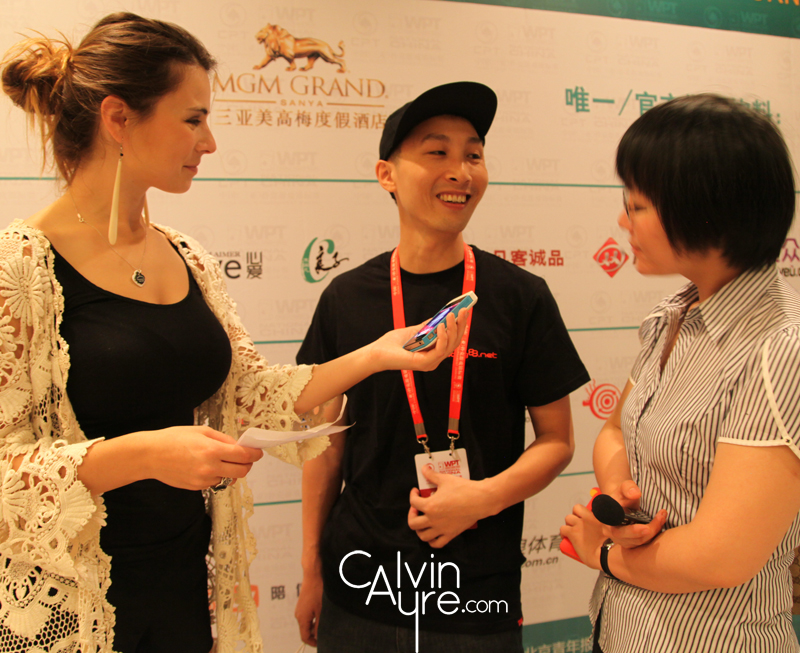 Tatjana Pasalic: Did you ever think that you would win the satellite when you registered to play?
Gary: Oh yes, I had all the confidence about this satellite! Saying that, I am already a winner no matter what happens.
Tatjana Pasalic: What are your thoughts on the WPT, are you confident about winning the Main Event?
Gary: Oh, I am hopeful. You know, poker depends a lot on luck.
Tatjana Pasalic: How was your Bodog experience since you arrived to Sanya?
Gary: It was fantastic. Bodog made excellent arrangements for me and my family. We got picked up at the airport and got booked into a very nice hotel. I am very thankful for that.
Tatjana Pasalic: How did you prepare for the tournament after you found out about the trip?
Gary: I surfed a lot and read the Chinese mini blogs to find out who is coming to the Main Event and tried to find out more about them. At the same time, I found out that one of my poker buddies is also coming for this event and I am looking forward to playing with him and catching up.
Tatjana Pasalic: How would you feel if you busted out from this tournament?
Gary: Being successful or losing is fine because all the competitions always depend on luck.
Tatjana Pasalic: And if you won?
Gary: I would feel terrific!
After a few levels, we caught up with Gary again and he told us that he was a bit worried as his table was very fierce and everyone played tightly but they opened up as the time passed. Gary also said that he is hoping that the Bodog brand expands more in China as he is enjoying playing the games designed for Chinese poker players.
The day 1b ended with 60 players that will be coming back to the poker room at noon local time and playing down to the final table. So there is still a lot of action to be seen. The players that have decided to skip lounging by the pool or playing golf, have the option to jump in the side events. Talking to some of the locals, I found out that Omaha is taking off like wild fire, so, who knows, maybe next year the Main Event changes it's game?
Comments