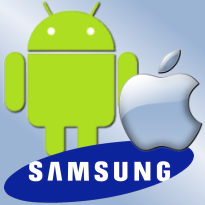 In July, Korean technology giant Samsung won the UK round of its never-ending global patent infringement tournament against rival Apple. As a result, Apple was ordered to publish a statement on its UK website confirming that Samsung had not infringed on Apple's patents in this case. Apple dutifully posted a document that made the statement, followed by a lengthy court transcript in which the judges were quoted praising the superior design of the iPad compared to the Samsung Galaxy, which they dubbed "not as cool." Samsung cried foul, the court agreed and ordered Apple to try again.
Apple has now complied with the court's demand, but you'd be forgiven for not knowing. Sharp eyed Reddit users detected the statement was indeed on the UK site, but visible only if users scrolled down a little. As it so happens, Apple recently tinkered with the JavaScript code on its UK site to dynamically resize a page's central image to its maximum, which has the effect of forcing the page's other images down and out of sight unless you scroll. No word on how Samsung or the court feels about Apple's latest 'mea fuckya' but clearly, this is how cocky a company gets when it has more cash on hand than the US government.
ANDROID DOMINATING MOBILE MARKET SHARE
Samsung may have the last laugh, as the software powering its phones and tablets continues to gain market share in the mobile operating system wars. Of the total of 181.1m smartphones shipped around the globe in Q3 2012, Google's Android OS was on 138m of them, just over three-quarters of the total mobile pie. Tech analysts IDC say Android's year-on-year growth of 91.5% vastly outpaced the overall market rate of 56.4%. Apple accounted for 26.9m shipments last quarter, representing just under 15% of the market. (Samsung's own shipments amounted to 31.3%.) RIM shipped 7.7m Blackberry devices, a nearly 35% year-on-year drop leaving it with 4.3% of the total. Symbian fared even worse, down over 77% from 2011 to 4.1m devices and 2.3% of this quarter's total. Microsoft's Windows derivations were on 3.6m devices for 2% of the Q3 pie, but shipments were up 140% year-on-year. Linux limped into last place with 2.8m units, 1.5% of the total, down nearly 32% since 2011.
NO MONEY, MO PROBLEMS
Android's success has not gone unnoticed by app developers, who can't stop making products for Android users to download, but these apps can take undisclosed liberties with a user's mobile. Juniper Network's Mobile Threat Center examined 1.7m apps available via the Google Play store between March 2011 and September 2012 and determined that hundreds of thousands of them accessed more aspects of a user's system than the app's stated purpose should logically require. Some apps gave themselves permission to track a user's location, access their address books, activate the device's camera, send SMS messages and make outgoing phone calls without the user being aware.
This is worrisome on a number of levels, as the phone and SMS functions could be used to communicate with pricey 1-900 numbers or send premium SMS messages. Worse, discreetly initiating a call allows the app to turn the phone into a clandestine listening device. (Be honest: how many of you just checked your phone?) Free apps were found to be far grabbier with your system than paid apps. Nearly a quarter of free apps tracked your location vs. just 6% for paid apps. Free apps were also three times more likely to access address books and two-and-a-half times more likely to activate your camera than were paid apps.
Juniper singled out two categories of free apps that were the worst abusers: racing games and 'cards and casino' games. Of the latter, 94% gave themselves permission to make outgoing calls, 83.88% could use the camera and 84.51% could send SMS messages, all without providing any description of why these functions were necessary. Juniper added the caveat that at least one of the card/casino app developers they contacted following the study claimed to have included the camera access as a feature available to premium users who wished to incorporate a photo of themselves as the game's background. Juniper suggests developers do a better job of making such justifications public information or else remove unnecessary functionality from their apps.