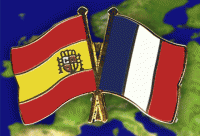 Spain and France's respective online poker regulators, the DGOJ and the ARJEL, are in talks to sign an info-sharing agreement, one that would see increased cooperation between the two regulators in terms of online gambling regulations.
With this agreement in place, the DGOJ and the ARJEL are expected to potentially move a step closer to sharing online poker liquidity.
Spain, France, and Italy each have their own regulations on online poker and have kept their player pools separate from international pools. Nevertheless, there have been some talks, particularly between Span and France, regarding sharing online poker liquidity and the announcement of an impending agreement between the two country's respective regulators appears to be a step in that direction.
It's been no secret that sharing online poker liquidity is seen as an important step towards sustaining longevity of online poker, especially in markets – Spain, France and Italy come to mind – that have seen significant decline in online poker activity. Without any agreements in place, segregated markets restricts the availability of active games and player pools, thus limiting the revenue potential each of these markets stand to gain. Add that to the handcuffs high taxes provides and that has a direct effect on curtailing liquidity.
With this agreement between Spain's DGOJ and France's ARJEL in place, both markets could benefit from information sharing, which could then lead to improving both market's online poker liquidity.
The question now is if Italy's regulator AAMS has plans to join the two in bed for a potential three-way. The former has also been in talks with Spain regarding sharing player pools by 2013 so don't sleep on that from actually coming to fruition too.
Enrique Alejo, Director General of the Spanish Gaming Commission, has even made it known a few months ago that the two sides are also in discussions of sharing a player pool, which could potentially happen as early as next year.