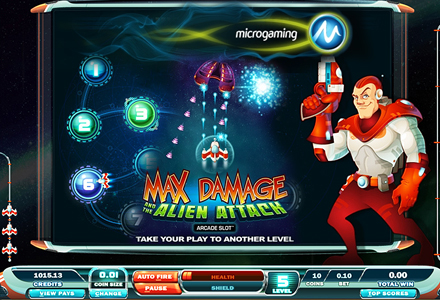 Last week Microgaming released a new slot that was made available to their casino partners. That in itself is nothing out of the ordinary as Microgaming tends to release as many as four new slots every month.
The slot was Max Damage and the Alien Attack but judging by the effort put into the launch of it, Microgaming is expecting this game to be a big deal. In order to generate some interest in the release, the Isle of Man-based software company sent out press releases in the form of small booklets that even came complete with popping candy.
The last slot that they did this for was The Dark Knight™ slot and that says more than any press release could about the level of interest that the company is hoping the Max Damage slot will garner.
The reason for such excitement among the Microgaming clan is that the Max Damage slot is very different to any slot they've created before. To use their own words 'it's out of this world'. To begin with, there are no reels, which in itself isn't necessarily a revelation as casino games like Jenga and Gonzo's Quest have used similar principles.
However, Max Damage doesn't just not have any reels, it doesn't look remotely like a slot but instead features nine different levels where arcade games are played out in front of your eyes. You begin with six lives, earn boosters and are paid out where appropriate along the way.
Essentially, it's an arcade game with the element of real money play added. Think Pong, Asteroids or Pacman with the added attraction of being able to win real money.
Introducing a New Era
While Max Damage is by far the most extreme example so far, it isn't the first example of casino gaming adopting a softer approach with its games. Some operators and software providers have identified this as their niche with Gamesys, Betsoft and others making waves in the iGaming industry. Even some of the larger operators have nodded in the direction of softer games with the Betfair Arcade and Paddy Power Games providing two of the more high profile examples.
Part of the reason for this gradual embrace of softer games is simple – they open you up to a much broader market. This is something that Microgaming's head of casino Mike Hebden reveals was considered when making the decision to do something so different.
"Due to the nature of the game, we do envisage Max Damage appealing to a broader market than the traditional slot. However the player experience will have familiar features to conventional slot games, with players having the opportunity to hit big wins during boss battles at the end of certain levels," he says.
While it wouldn't be surprising if a larger customer base is drawn toward the game, convincing them to wager significant amounts on it may prove to be a completely different matter altogether.
Similarly to how video poker and video slots were originally eyed with suspicion, it's likely that players will be weary of this new style game where the ways in which you win aren't so obvious.
In this instance, Hebden admits that there may be a period where players aren't quite so sure of the games winning dynamics.
He explains: "Max Damage is very intuitive and will be familiar to anyone who has played an old-style arcade game, so the actual game play is unlikely to need explaining.
"Where the difference starts to emerge is that players are able to win cash prizes – this is something that may take some getting used to, though we have worked hard to make it a clear, simple process for players to understand."
It may emerge that for the time being only the better known brands would be able to get away with using them. If a new provider or operator started with these style games then there's bound to be a trust issue users. This is something Hebden refers to in his response to a question regarding whether players will trust the new style slot to pay out.
He says: "There is a high level of trust in our games, according to our operators, who report excellent customer loyalty among players.
"So although its arcade-style looks different to more conventional slots, we are confident the game will soon establish a loyal following among players who enjoy bringing an element of their own skill to the game."
Increasing the Variety
Although it's hard to knock the success that has been experienced by the South African company, if you were to be critical it would be possible to say that their slots do all appear to follow very similar formats. Even the recently released Batman themed slot shares many features with the now expired Lord of the Rings slot.
But this isn't just a criticism that can be applied to Microgaming. Real Time Gaming have made a business of reproducing the same slot but with slightly altered paytables, images and backgrounds while even many of the Playtech slots bear numerous resemblances.
Creating something a bit different is really something that needed to happen when it came to slots development – particular in an industry where innovation is a word used in most sentences. While this was an important consideration during the creative thought process at Microgaming, Hebden is keen to stress that there's more to it than just standing out.
He says: "The idea of providing something a bit different was very much at the forefront with the development of Max Damage. However, it's no good simply coming up with something new for the sake of a gimmick – we also had to be confident that it would provide the same high quality gaming experience as all the other products we have to offer."
What we already know, thanks to Betfair Arcade, Betsoft and co., is that there is definitely a large market for softer games. They attract a broader audience of people that enjoy playing games rather than just gamblers. As well as bringing in new customers, this could even be the trend that eventually allows people to embrace gambling as a form of entertainment.
Hebden concludes that he definitely thinks it could be the start of something new.
He says: "We are very excited about introducing the new arcade slot genre into the online gaming industry and have a numb of concepts in various states of design and production, so we certainly believe that there is great potential for this style of gaming to become a trend."
Comments