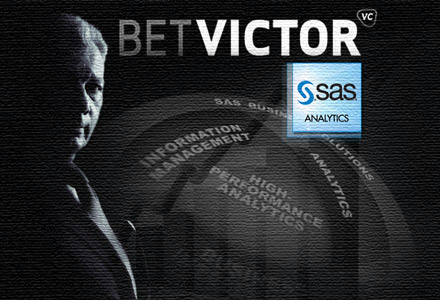 BetVictor have undergone a vast number of changes in recent times. For one, they're now called BetVictor instead of Victor Chandler – a move clearly designed in order to modernise the brand which had been around for more than 60 years.
There have also been changes in software suppliers, extension of the shirt sponsorship of Championship football club Nottingham Forest and even the addition of new products.
But one slightly lower profile change that BetVictor have made is by teaming up with SAS Analytics and making use of the company's Grid Computing and Marketing Automation. These products are designed to help retain players which is a challenge that all in the iGaming business is very familiar with.
In the press release announcing the new deal, reporting director at BetVictor Ian Plumb explained their reasons before the new deal.
He said: "We're looking to increase the retention rates and the longevity of our customers and therefore their value.
"Initially we will be targeting non-depositing and small deposit customers to increase their depositing and subsequently, to better understand our customer segmentation through improved analytics."
Knowing the customer is what most businesses would consider to be a pretty basic step. It would appear that for retailers that are able to see customers when they come into stores and even collect information about their purchase habits it is. Even if you don't go this far in the retail world there are always queues of market research companies lining up to help you out for a fee.
Once in the online domain, you would think that things aren't always that easy. What you're allowed to learn about your users is strictly governed and the introduction of the new cookie laws in the UK has only served to make this challenge harder.
Speaking to CalvinAyre.com about BetVictor's needs, retail consultant at SAS UK & Ireland Cindy Etsell argued that the challenges faced by retail and online companies are actually quite similar.
She explained: "Online gambling or those who have a high street presence have similar challenges to retail around churn and retention.
"Their challenge is similar in that they have no idea who their customers are or what their preferences are in terms of 'what and how' they decide to place a bet."
While you may be able to draw players in by offering a selection of deposit, no-deposit and game specific bonuses you're unlikely to find out much more about these players if they stick to the terms and conditions. After all, if a player comes into a casino to use a slots bonus because it's the biggest on offer then once they've met the requirements of that bonus by playing slots we know little more about them.
This issue was referred to by Plumb. He said: "This will allow us to enhance our promotion and bonus offers by targeting customers in smaller groups with more relevant offers.
"All this can be managed through our SAS upgrade by delivering information throughout the business and building automated campaigns specific to our customers' interests."
Analytics is obviously something that almost all operators do with most doing it in-house. It's used not only for retention but also to clean up acquisition channels and is essentially about optimising the process of gaining and holding on to players.
Some companies have even trumpeted the use of predictive analytics which are all well and good but it is hard not to be sceptical about their accuracy. Knowing a player just 12 hours after registration is always going to be tough regardless of how sophisticated your software is.
But more forms of analytics are becoming available. Given the monumental rise of social media it's no surprise that social media analytics is now available. Currently, casino and bingo products will find it hard to use these tactics as they're social media mentions are pretty low. However, for sports bookmakers the ability to track the positive and negative mentions on social media sites is invaluable.
After all, customers are always more likely to sign up if they've been recommended by a friend and if the mentions are negative, social media provides you with an opportunity to fix that by talking to the user.
As this is just the beginning of the employment of this and many other tactics by BetVictor we're unlikely to see whether it works for them until at least a few months down the line. But as things stand, Etsell is confident that it will be a success.
She says: "I know they have a huge need for data storage and data centres but what do they actually do with their largest asset? I bet we find they do very little.
"If they had data that was integrated, cleaned and could be harnessed in a positive way imagine the difference. Could they actually personalize their approach and decrease their rate of churn?"