Ironic as it may seem, US President Barack Obama and declared Obama antagonist/Las Vegas Sands chairman Sheldon Adelson share the same birthday: Aug. 4. Obama turned 51 years old on Saturday while Adelson turned 79. To honor Obama's birthday, cheeky Republicans sent the President a cake bearing his likeness and the phrase "You Didn't Bake This" – a riff on a line from a recent speech Obama made on the economy. But Obama may have demonstrated he also has a sense of cheeky humor by choosing the day before his and Adelson's birthday to unleash the Department of Justice on the GOP's biggest financial backer. On Friday, the Wall Street Journal reported that the US Attorney's office in Los Angeles is investigating whether LVS execs broke money laundering laws by failing to alert authorities to the questionable financial practices of a couple of high rolling gamblers.
ZHENLI YE GON PUTS THE 'HIGH' IN HIGH-ROLLER
The first case involves Zhenli Ye Gon, a Chinese-born Mexican national who made his bones in the pharmaceutical business. In 2007, Ye Gon told the Associated Press that he liked to bet $150k a hand of baccarat at the Venetian in Las Vegas, a habit that resulted in him losing $125m at Nevada casinos over the years. Of particular interest to authorities was Ye Gon's use of Mexican currency-exchange firms known as 'casas de cambio' to transfer $85m to Vegas casinos. A Drug Enforcement Agency officer stated in a court filing that this money was the proceeds of a Mexican methamphetamine operation. At the recent public dressing down of UK bank HSBC by US Senate officials, Ye Gon – a former HSBC customer – was used as an example of the bank putting profits ahead of compliance.
In March 2007, Mexican authorities raided Ye Gon's Mexico City home, where they found the whopping sum of $207m in US funds, 18m pesos and a couple hundred thousand Euros and Hong Kong dollars – because, you know, all that strictly green money gets boring after a while – but no Ye Gon. After Ye Gon was officially declared a fugitive of Mexican justice, LVS execs notified Nevada gaming regulators of their dealings with the Chinese-Mexican whale. LVS spokesman Ron Reese said the company hadn't previously filed any suspicious activity reports because they'd considered Ye Gon a legit businessman who just really liked to gamble. Reese noted that Ye Gon's name was not on any financial watch lists when he gambled at their facilities.
In July 2007, US authorities arrested Ye Gon in Maryland on a charge of conspiracy to aid and abet the manufacture of methamphetamine, but a key witness later recanted a statement and the US case against Ye Gon was dismissed with prejudice in August 2009. However, Ye Gon has remained in US custody while his extradition to Mexico – where he still faces charges – slowly winds its way through the courts. Ye Gon is reportedly not cooperating with the US money laundering investigation.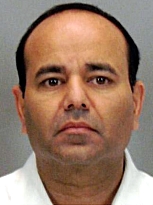 THE WHALE THAT WASN'T
The second LVS whale being investigated involves Ausaf Umar Siddiqui (pictured left), a former Fry's Electronics VP who transferred over $100m to LVS casinos over a three-year period despite earning only about $200k/year from his day job. (Siddiqui also transferred $20m to MGM Resorts and reneged on a $10m marker at the Mohegan Sun casino in Connecticut.) In 2009, Siddiqui was charged with taking illegal kickbacks from Fry's suppliers. Siddiqui pled guilty and received a six-year sentence.
Siddiqui's case definitely appears to be the more glaring example of a whale's behavior not passing the smell test. But whether the feds can prove in court that LVS execs were engaging in 'willful blindness' or 'flagrant organizational indifference' is a matter of some debate. Perhaps the feds are sitting on some other evidence that hasn't yet been leaked to the public, but it bears asking why these old cases have suddenly been given new life. For the moment, in the heat of a presidential campaign in which Adelson figures prominently, this story will likely be viewed across strictly partisan political lines. Republicans will say that since Obama couldn't call in a drone strike on Adelson, the Prez decided to drop mud in lieu of a Hellfire missile. All we'll say is, we suspect Obama had Biden take the first bite of that cake, just to be on the safe side.