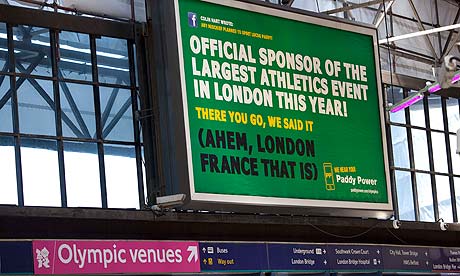 UPDATE: Paddy's billboard campaign will remain in place as the Olympic buzz-killers have dropped their legal action. A Paddy spokesman described Locog's about-face as a "gold medal winning u-turn" and proclaimed it "a victory for common sense and for each and every one of our customers and fans who supported us along the way. The athletes of London, France will be breathing a collective sigh of relief this afternoon. May the Games begin!" Yet another masterful PR exercise from PP. Well played, lads!
Paddy Power's latest marketing stunt is set to send them through the courts after those responsible for the biggest sporting event on the planet decided to take action. Paddy's ad at London Bridge station, which can be seen on the right, dubs them the "official sponsor of the largest athletics event in London this year!" before pointing out the event is taking place in London, France.
This angered the London Organizing Committee of the Olympic Games (LOCOG) who ordered for the ad, promoting the egg and spoon race in London, to be taken down. Apart from London Bridge station it also appeared across a number of other mediums including London's Evening Standard, City AM and Metro free newspapers.
Locog's statement, released yesterday, said: "We can take a joke, but as you would expect we had to draw the line at the provocative references to Locog. We also have a responsibility to ensure that no one thinks betting companies have any sort of official connection to London 2012. We have not seen any [court] papers yet and will reserve comment until we do."
Paddy has now instructed law firm Charles Russell to seek a high court injunction to stop Locog removing the ads on the grounds that it's ambush marketing by non-Olympic sponsors.
It's unlikely that Paddy Power will score a victory thanks to the strict rules the International Olympic Committee has in terms of betting companies being associated with the games. Then there's obviously the relative size of the Olympics compared with the firm itself.
This will, however, be another occasion that hands Paddy some free publicity so from that side of the fence you could say that LOCOG is in fact helping them out.