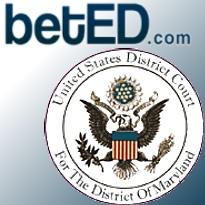 Darren Wright, former employee of defunct online sportsbook BetED.com, has been sentenced to two years of probation and fined $100k after pleading guilty on Monday in Maryland District Court to 'conducting an illegal gambling business'. Court documents obtained by @DavidPurdum indicate that Wright was spared the harshest possible sentence – five years in jail followed by three years of supervised release and a $250k fine – on the US Attorney's recommendation for a sentence "at the low end of the applicable sentencing guideline range." David Parchomchuk, who was indicted along with Wright on May 23, 2011 aka Blue Monday, was also sentenced to two years of probation last month.
Count Two of the indictment against Wright – the money laundering charge – was dismissed at the time of sentencing and the government agreed not to charge Wright with any other offenses related to this case. According to court documents, Wright paid his $100k fine in full, so clearly the FBI seizure of Panamanian bank accounts on Blue Monday didn't leave Wright a broke(n) man. However, the government also agreed not to "seek further civil forfeitures other than those that are pending," so they don't appear all that convinced that Wright made off with the player funds that vanished when BetED closed its doors immediately after the indictments came down.
The plea agreement stated that funds transferred to the Panamanian accounts were used to "pay business expenses, such as employee salaries, marketing the BetED.com site and the development of software." In other words, the missing player balances are still out there somewhere, presumably squired away by Covers.com owners Paul Lavers and Joe MacDonald, the alleged beneficial owners of BetED. Given the relative leniency of the sentences given to both Wright and Parchomchuk, it's logical to assume they've been fully cooperating with federal prosecutors, providing a sliver of hope that even if the player funds are never reCOVERed, those responsible for their disappearance are made to pay.