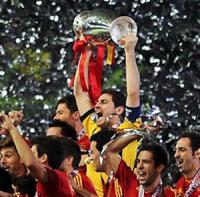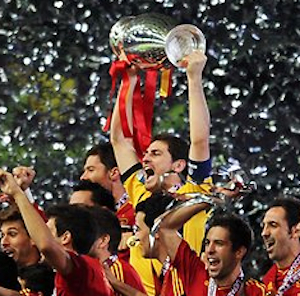 For much of Euro 2012, defending champions Spain had been playing somewhat average football relative to the obscenely high standards we've come to expect from them. It has led to some quarters even thinking that Italy had a fighting chance in the finals to unseat the Spanish squad.
Then the finals began, and domination ensued. Nothing to worry about, folks.
Despite repeated chances by the Italians in the first half, Spain just would't be denied. La Furia Roja showed more urgency from the get-go, determined to break the Azzurri's collective will before they could even get a chance to warm up. It only took 14 minutes to do that after David Silva scored a beautiful header to give the reigning champs the 1-0 lead. Then with minutes left before the half, Spain all but extinguished Italy's chances after Spanish defender Jordi Alba scored off of a stolen ball at the half-line, connecting with Xavi to finish past Italian goalkeeper Ginluigi Buffon and giving Spain a 2-0 lead.
The second half was a mere formality and it didn't help the Italian squad one bit that injury-prone sub Thiago Motta went down with a hamstring injury, forcing the overmatched Azzurri to play the rest of the way with only 10 men. Goals by Fernando Torres and Juan Mata in the 84th and 88th minute, respectively, served as the final exclamation points in what turned out to be a one-sided finals.
Spain's victory in Euro 2012 – it's third international title in a row – was universally lauded by the football world as further proof that this squad just may well be the greatest football team ever. And really, who are we to argue against that?
But not everybody turned in happy faces after the outcome was decided. One, in particular, was sports book BetVictor, who made the bold move before the tournament started to give its customers their money back on any losing bets made in the outright market if Spain managed to defend their title.
Oops.
BetVictor spokesperson Charlie McCann talked about the aftermath of Euro 2012 and how Spain's victory cost them a whole lot more than they hoped for. "The cashback cost us a substantial six-figure sum and we already have the monies back in our customers' accounts," McCann said.
"Our belief was that La Roja would miss both Carlos Puyol and David Villa, that Fernando Llorente had finished the season poorly and that Fernando Torres had struggled to find his form all season. Little did we know they could win the Tournament without a recognized striker!"
Nevertheless, BetVictor remained good sports about the outcome, even if they pretty much lost the entire outright market from Spain's victory.
"The best side won and we have no complaints," McCann admits. "We are today licking our wounds and counting the cost, but congratulations to those who backed Germany, England, France, Holland even Italy pre-event as we had losing stakes back in our clients' accounts by midnight last night".