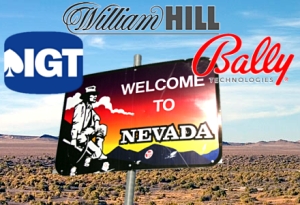 Thursday's historic meeting of the Nevada Gaming Commission has produced smiles in the boardrooms of gaming device makers Bally Technologies and International Game Technology (IGT) and UK bookmakers William Hill. Earlier this month, Bally's bid for an online poker technology provider license was approved by the Nevada Gaming Control Board (GCB), a decision that was rubber-stamped Thursday by the Gaming Commission. And with that, Bally became the first company to obtain state blessing to operate online poker in the US of A (although confined for the moment to within Nevada borders).
An hour after Bally made history, IGT also received the Gaming Commission nod, which makes them Buzz Aldrin to Bally's Neil Armstrong – a notable accomplishment, to be sure, just not the first to do it. Both companies still face the formality of having their technology put through its paces by one of Nevada's independent testing labs, a process that's expected to take anywhere from seven to 10 months.
THE HILLS ARE ALIVE
UK bookies William Hill also got the unanimous thumbs-up from the Gaming Commission on its gaming license bid, formally okaying Hills' 2011 Nevada sportsbook acquisitions which gave the UK bookie control of 55% of the state's sports betting market. Over the next 18 months, Hills plans to invest $10m in its US subsidiary, which will consolidate land-based, online and mobile operations under the banner of William Hill U.S. Holdco Inc., with Joe Asher as CEO and Vic Salerno as chairman/CTO. Hills CEO Ralph Topping told the commission that while 92% of Hills' revenue currently came from the UK, the US represented "the most important and interesting" new market for growth. As live-tweeted by the Las Vegas Review Journal's Chris Sieroty, the Gaming Commission approval came despite Commissioner Tony Alamo saying he needed more information about William Hill Online joint venture partner Playtech and its controversial majority owner Teddy Sagi to be "comfortable" making his decision.
CANTOR LOOKS EAST
While Hills is making forays into the US sports betting market, its main Nevada sportsbook competitor Cantor Gaming is seeking a gaming license in Macau. Cantor Fitzgerald chairman/CEO Howard Lutnick told the hosts of Bloomberg's Market Makers program that his gaming subsidiary was "in the process of getting licensed in Macau." While Lutnick acknowledged that this process "will take a while," he believes Cantor's operation of sportsbooks at multiple Nevada casinos – including some, like Las Vegas Sands, which have operations in Macau – gives the company an ace up its sleeve. "When you have these big casinos as your partners, it makes it much more easy."
Lutnick also suggested that gambling "is a smarts business" and that Cantor's willingness to push the technological envelope – including its proprietary mobile gaming options – set the company apart from its competitors. Las Vegas sports betting "was up 13% this year. Why? Because [Cantor] gave the world a new product, something more fun, better. Do something different, something new and you can take market share from everyone else, because you're smart, you're working hard and you've got a great product."