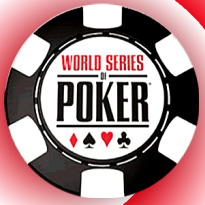 We're a week into the 2012 World Series of Poker, and it's a toss-up as to whether participation is up, down or flat compared to last year. Using directly comparable events, Bluff Magazine determined the fields at Events #4, 7 and 8 were up 2.6%, 2.8% and 4.5% respectively, while Event #1 was down 13.9% and Event #2, the first $1,500 NLHE of 2012, was off a whopping 32%.
BRING ON THE BLING
Daniel Negreanu was hoping for a little numerical synergy in that Event #5 (the $1,500 Pot Limit Hold'Em) would be the one that delivered his fifth WSOP bracelet, but Kid Poker could manage no higher than – wait for it – fifth place. (We hope Danny downed a fifth of something strong to drown his sorrows.) Instead, it was Nick Jivkov who outlasted the 639-strong field and defeated Bryan Pellegrino heads-up to collect $189k and a shiny bracelet to add to his WSOP-Circuit gold ring. Jon Aguiar finished third, and Tommy Vedes took fourth.
Longtime WSOP bridesmaid Andy Bloch finally got to say "I do" by taking Event #7, the $1,500 Seven-Card Stud, earning $126k for besting a field of 367 players. Bloch, who had made eight WSOP final tables without tasting victory, defeated 2011 Poker Hall of Fame inductee Barry Greenstein heads-up to get a nearly two-decade-old monkey off his back. Stephen Su took third, while David Williams – winner of a Seven-Card Stud bracelet in 2006 – took fourth.
SURE, NOW THEY WON'T SHUT UP
The 2012 WSOP has already generated some moderate controversy, with some players expressing very vocal opposition to the new rule requiring them to vocalize their every play at live-streamed final tables. The WSOP believes this will help novice players follow the action, but Event #5 final tabler Aguiar told CardPlayer the concept "doesn't make any sense" because "the dealers, the tournament directors and the commentators are all doing that on their own." Aguiar even suggested the rule was being applied selectively, insinuating that organizers didn't start to enforce the edict at his table until after Negreanu busted out. (Meow…) Tournament director Jack Effel apparently isn't sure if the rule will remain in place when the ESPN cameras start rolling.
Event #9, the $1,500 NLHE Re-Entry, generated even more controversy after three players managed to re-enter twice on the same day, despite the rules limiting players to a single re-entry and only on the second Day 1 flight. Will Failla was among the three (out of 81 who attempted the re-re-entry) who were disqualified for slipping past the gatekeepers. The WSOP issued a statement that anyone they could "verify" had been sent to the rail by one of these multiple-entrants would get their buy-in refunded, but questions are being raised as to why the WSOP computers weren't able to prevent players from making those extra re-entries in the first place.
LOTS OF CASH, NO NAME
The $1m buy-in Big One For One Drop benefiting Guy LaLiberté's One Drop NGO has published a list of 30 names (read it here) that are guaranteed to appear at the ultra-high-roller event, although the group's official twitter feed claims more names will be added before everything kicks off a month from now. Amusingly, the list contains a few placeholder aliases belonging to apparently shy participants, including "European Hedge Fund Manager" and "US Venture Capitalist." We'd be even more amused if "French Businessman" turned out to be a member of the Tapie family.
Comments