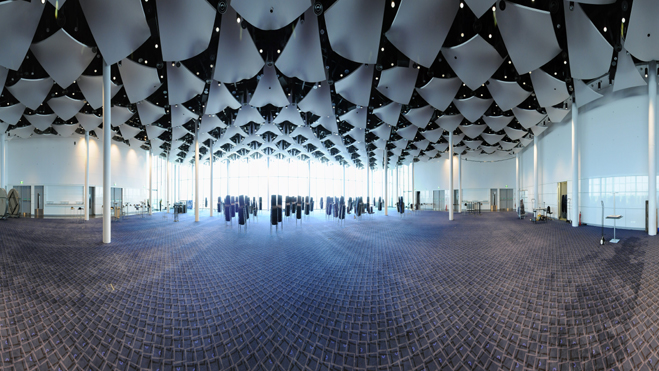 eGR's rebranded Spring conference took place earlier under the moniker "Subscriber's Forum" with all sides of the gaming industry coming together under Wembley's iconic arc. Walking up to the venue you felt as if you'd turned up to a party no one else was invited to. Even on a non-event day heading down Wembley Way has that feel of a Cup Final though.
The format of the first ever forum was a good one with the beginning in the bar area – always a masterstroke where the gaming industry is concerned. Ed Ware, CEO of 32Red, Mark Davies, founder and MD of Camberton UK, Clive Hawkswood, CEO of the Remote Gambling Association (RGA) and Peter Nolan, MD of Genting Alderney all joined eGR editor James Bennet on stage for a lively debate on the future of the UK market.
Much of the discussion centered on whether the industry should be pushing for greater concessions from the government. betfair founder Davies admitted the industry is "rolling over" regarding regulation when it's "all to play for". Hawkswood also recognised the point and added that it's still about getting the best deal possible from politicians and that there's definitely one to be done.
All sides agreed on the fact the changes aren't Treasury driven as the money being talked about is a mere drop in the ocean for central government. Hawkswood added that for it's an easy "political hit" to take for Westminster due to the fact it throws the land-based industry an olive branch and has cross-party support.
Amongst the audience members was David Zeffman from Olswang who said the best the industry can hope for is the new regime to be deferred for a couple of years – something that will save companies millions.
ROCK IN A HARD PLACE – GIBRALTAR
Apart from the players, the other obvious loser in the whole process is Britain's rock in a hard place – Gibraltar. Davies admitted they have had legal teams working on it for some time to try and get their own concession. Debate surrounding the bill soon became heated as Nolan's view that it was all about "social responsibility" and "jobs" was largely rejected by the others on the panel.
Before everyone retired for an early morning beer the four were asked what the best and worst scenarios would be. Davies stated that the gaming industry will have "failed" if significant "concessions" aren't obtained from government. It was agreed that anything below 15 percent or the government killing the plan would likely be the best-case scenario.
eGR's forum then splintered off to four different tracks and we focused on the sportsbook with some interesting insights looking at the Asian market. Jesper Jensen, director of trading at Samvo, and Johan Moazed, CEO of Bettingpromotion, joined moderator Joe Saumarez Smith, CEO of Sports Gaming, under the banner "the evolution of trading". They explained the inherent differences between operating in Europe and Asia, and how bettors differ completely between the two markets.
Comments on fixing were of particular interest as Jensen admitted Asian-facing companies could blame fixing when they "fall asleep behind the wheel" of their business. FIFA and companies also have to distinguish between when it's fixing and when it isn't – something that's a quandary in itself.
PERSONALIZATION IS THE KEY
User experience is something you always have to consider as a sportsbook and three esteemed dignitaries from the industry got together to debate this. All panelists agreed with Easyodds CEO James Garmston's point that personalization is the key to a good site and betfair's Liam Barbour added that new offerings are another important driver of traffic.
Social media was a huge subject of discussion with Vincent Leonard, from Rank Interactive, agreeing with the other two panelists about the huge potential in this area. Interaction with users is the biggest part of this with Barbour adding that Twitter, mobile and gambling all "linked seamlessly" is the "next big thing".
POKER and RECREATIONAL IS HAPPY MARRIAGE
Panels looking at the poker industry also took place in the morning with most of those on the panels coming round to the idea that the recreational model is the way to go. Poker industry expert and Infinite Edge Gaming founder Kim Lund commented that the industry "needs" a recreational future and that liquidity only matters to individuals in the sense that they want to play more players on their level. He added that "innovation has stalled" because networks are too focused on increasing this liquidity – everyone on the panel agreed.
Another panel looked "operators achieving growth in poker" with Jez San, founder of PKR, worried whether it is "unfair" on others if PokerStars gets a leg up in the U.S. market if they buy Full Tilt Poker.
After a spot of lunch it was onto the afternoon and panels looking at regulation in European jurisdictions. Peter Naessens from the Belgian Gaming Commission, Ian Ince from Sportingbet and Clive Hawkswood from the RGA joined moderator Chrstian Tirabassi, MD of Ficom Leisure to chat about the EU. Ince made the point that firms "want to be regulated" and that companies feel "untrusted" thanks to regimes like Belgium and France putting in place restrictions. Naessens stuck to his guns on the fact that their plan all along was to have a few companies due to it being a small jurisdiction.
FOUR INGREDIENTS FOR SUCCESS IN EUROPE
Sportingbet's Ince explained that "ISP blocking", "following the money", "banning advertising and marketing" and "targeting suppliers" are all integral to preventing illegal firms operating. It's Ince's belief that if a jurisdiction doesn't do all these together they won't succeed.
Lastly it was the jurisdiction that is on everyone's lips turn to be dissected – the U.S.A. Hell, eGR and iGB have even brought out new magazines to herald North America's return to iGaming so it must be big!
THE AMERICAN DREAM
Not if you listen to gaming veteran Joe Saumarez Smith, CEO of Sports Gaming, who stated he is "pessimistic" that it will move quickly anytime soon with all sides pulling in slightly differing directions meaning it's a difficult political situation. The panel, which featured lawyer Jeff Ifrah and GTECH G2's William Scott, pointed out the need for a local partner and that land-based casino business will have to be attracted to it in some way.
Discussion on those partnerships was a big part of the panel with Smith speculating that they're simply "window dressing to improve share prices" and that working together will be a "learning curve".
Overall the day offered much insight and we just hope it will still be a free-for-all for us non-subscribers next year!