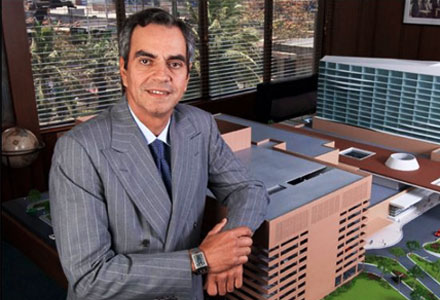 Enrique "Ricky" Razon Jr. likes to put his watch on his right wrist out of fear that snatchers would grab it when he's driving his car. He also had to be dragged out of a bidding meeting because he hates to lose, and he once "convinced" his employees to buy him a new arowana fish after the one he had jumped out of its tank and died.
Quite an interesting fellow, this man is.
All that aside, Razon is also a successful Filipino businessman with an estimated net worth of $1.6 billion, adding all that zeroes to his name in large part because of his ports operation business. But just like every successful magnate, Razon is looking for the next challenge, and true to his competitive nature, he's betting on becoming the next Filipino casino tycoon.
The 52-year-old wants the Philippines to become the world's next gambling destination, and he's putting his money where his mouth is by building the Solaire Manila casino resort for a reported $1.2 billion, $200 million of which would come straight out of his own pockets. The high-end resort is expected to open at the start of 2013 with 300 gambling tables, plenty of fine dining choices, and luxurious villas that will overlook the scenic sunsets of Manila Bay.
In addition to Razon, a number of Asian developers are also looking to bring their own brand of high-living, limousine-riding, table-slapping fun to the Philippines, including Malaysia's Genting Bhd and Japanese gambling tycoon Kazuo Okada.
The challenge for Razon – and all other developers, for that matter – is to build up the Philippines as a premier gambling destination that's worthy of going toe-to-toe with regional heavyweights, Macau and Singapore. In order to do that, he emphasized the importance of bringing tourists to the country to play in the casinos. "Our main strategy is to really drive the foreign players," he tells the Wall Street Journal.
One card that could play in the Philippines' favor is the country's low tax rates, an allure that  Razon is counting on to bring in gamblers from such countries as China and Korea, who would have otherwise gone to Macau or Singapore for lack of any better choices.
Yet despite his grandiose visions of being a key cog in turning Manila into the next gambling mecca, Razon has no illusions that the task at hand is far easier said than done.
Nonetheless, the man with the golden tan is moving full steam ahead with the opening of the Solaire Manila. He has even recruited a number of former Las Vegas Sands executives to run the Solaire Manila, assets that he believes have connections with Macau middlemen to recruit Chinese high rollers and bring them to the country.
If and when the time comes where the Philippines becomes the gambling melting pot a lot of people have dreamed about, you can thank a handful of men for putting in the work – and the money – to make it happen.
Enrique "Ricky" Razon Jr. would appreciate your gratitude, but he'd love it more if you did it while staying in one of his high-end villas at Solaire Manila.