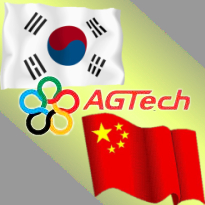 Chinese sports lottery provider AGTech is looking to expand its Lucky Racing virtual sports betting product in 2012. The fixed-odds virtual Formula 1-style racing game, which is broadcast to 1,700 lottery shops in Hunan province, made its debut in August and has already boosted AGTech's revenues by RMB 500m ($79.4m). The company is now looking to expand Lucky Racing's reach beyond Hunan's borders, and believes the Chinese government's vow to crack down on illegal lottery operations will further boost Lucky Racing's fortunes.
On Friday, China's Ministry of Public Security announced the results of a recent crackdown on cross-provincial gangs' gambling activity. The gangs were headquartered in Guangzhou in Guangdong province, posing as "animation companies" but actually producing gambling machines and selling them to gambling venues across the country. One such company, the Guangzhou Beisite Group, had been in business since 2007 and made annual profits of RMB 100m ($15.8m). Xinhua reports police broke up 16 "black mills" that were producing the machines, closed 115 gaming joints across 18 provincial regions and arrested 836 suspects. Police also confiscated 3,798 machines and seized more than RMB 20m ($3.17m).
South Korea has 17 casinos, 16 of which are off-limits to Korean citizens. On Thursday, police raided Kangwon Land, the one casino open to the locals, looking for evidence that two employees had conspired with a third party to fix the results of baccarat games. The police claim the employees installed a hidden micro-camera inside a card box on one of the casino's gaming tables, which enabled the unknown third party to know which cards would be dealt next. Police told the Korea Times that the scheme had allowed the unknown gambler to earn "billions of won in illegal gains on 23 occasions over the past three years." The employees reportedly received a 10% commission on the gambler's winnings. Police suspect the man was part of an international syndicate based in Japan or Hong Kong.