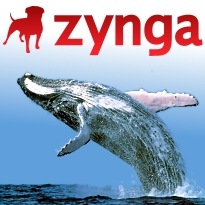 The CEO of Slingo, which just inked a licensing deal with social game developer Zynga, says he can't wait until gaming companies like his are allowed to offer real-money online gambling in the US. Rich Roberts told Games.com that his slot machine/bingo hybrid — which has already successfully crossed over onto B&M casino floors via IGT – fits with gambling like another tried and tested combo. "We just sat back and said 'What do we know the best about? Online and gambling.' And what's the peanut butter and chocolate? iGaming." Roberts doesn't think US legislators will okay such a mouthwatering duo until at least 2013, but he can wait. "Whether we're late or early, I don't know. We're right."
While Zynga is waiting for the online gambling gate to go up, it's searching around for other ways to make money. Sources told Bloomberg that Zynga is poised to launch a new publishing platform by which outside developers will be able to flog their apps in Zynga games and via the new Project Z network (which is currently in closed beta). Zynga would take a cut of the sales, providing an alternate revenue stream without incurring the increasingly high development costs associated with bringing its own titles to market. Zynga stock made a mild rally Thursday, closing up 2.1% after dropping 18% on Wednesday.
Analysts are applauding anything Zynga does that brings in new revenue. Zynga has 153m monthly unique users, but just 2.6m of these actually shell out real money for the virtual goods on which Zynga makes its bones. Worse, Macquarie Securities' Ben Schachter estimates that just 20% of these paying users (about 0.5% of all users) account for 70% or more of Zynga's non-advertising revenue. Yes, Zynga depends on virtual goods whales, just like non-virtual casinos. And like real world casinos, Zynga is determined to keep these whales playing and paying.
A week or so back, a person claiming to be a former Zynga engineer went (anonymously) public on reddit with some unflattering revelations about how Zynga was "a marketing company, not a games company … they design the game purely to fit the needs of the 'whales'. Everyone else is treated as an 'enabler'." The virtual whistle blower claimed one Mafia Wars whale blew the staggering sum of $100k on virtual goods. What we want to know is, how does an online company like Zynga ply their whales with alcohol and drugs, like Harrah's was accused of doing to Terrance "hey, where'd my $127m go" Watanabe?