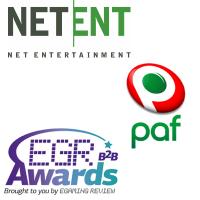 Net Entertainment had a 2011 to remember as revenues were up 16.1% compared with 2010. The company's revenues hit SEK 427.1m and were blighted only by a small drop in operating profit from SEK 136.4m to SEK 129.7m. Fourth quarter revenues rose by 21.6% to SEK121.1m as the company started its first course of investment in the mobile sector – something that will secure growth going into the year ahead. All of this meant their customer base shot up with acting president and CEO Björn Krantz adding: "During 2011 our market share in Europe increased to 22.4 percent compared to 19.3 percent in year 2010."
The coming 12 months will see a live casino launch by the "year-end" and with mobile developments also in the pipeline, new CEO Per Eriksson will be boarding a steady ship.
Aland-based gaming firm Paf is waving goodbye to deputy chief executive Thomas Lundberg. Nicknamed "Pitchi" after Spanish footballer Pichi Alonzo, he will leave the firm at the end of March and, according to eGR, head of consumer experience Anders Wiklund will take on the role. Commenting on the departure, Anders Ingves, CEO of Paf, said: "It is always hard when competent and inspiring people choose to leave the company. I sincerely wish Thomas all the happiness, success and continuous personal growth in his new position. I will morn not having the possibility to challenge him and be challenged and surprised by him every day.
"But I am convinced Anders Wiklund, who takes over the relay-baton from Pitchi, will open up new inspiring ways of thinking in me and in the dot.com-organisation."
eGR has announced details on the 2012 incarnation of the popular B2B awards. Wembley Stadium will play host to the ceremony on May 10 with the nomination period now open. It's the third year in a row the awards have been around and tables are available now. As well as a plush new venue, there are five new categories at this year's gig where awards are now available for mobile payment solution of the year, best customer service of the year, IT vendor of the year, IT distributor of the year and innovation in mobile. What that does mean though is an even longer list of awards being handed out with the number now hitting 32 (THIRTY TWO). We hope you like your awards!