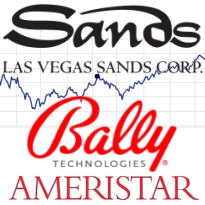 Las Vegas Sands (LVS) saw Q4 net income rise 17% to $320.1m on revenues of $2.54b (up 26.3%). Asian operations were once again key to LVS success, with Asian subsidiary Sands China reporting a 22% rise in revenue to $1.33b, spurred by a surge in Macau's mass-market demographic. The Marina Bay Sands operation in Singapore brought in revenues of $806.9m, up a whopping 44% over the previous year. UBS Investment Research analyst Robin Farley noted that some of Singapore's success can be attributed to a good run of luck in the volatile high-roller market, which may have added $22m (or more) to Singapore's bottom line. Stateside, operations in Nevada rose 9.3% to $339.5m, while LVS' Pennsylvania property added $105m, a 25.9% jump.
Speaking via conference call, LVS chairman Sheldon Adelson told investors that his company now controlled just under 20% of the Macau market, a number he expects to rise with the opening of Sands Cotai in another couple months. Not one to rest on his laurels, Adelson is seeking government permission to construct a 4,000-room twin-tower (one for mass-market gamblers, the other for VIPs) casino complex on Cotai land Sands already owns. In Singapore, Adelson says his occupancy rate is over 90%, so he wants to purchase land adjacent to Marina Bay Sands to add another 1,000-1,500 rooms.
How much does Sheldon love Asia? Adelson told investors he wants to build resorts in the two most populous cities in each of the following countries: Japan, Korea, Taiwan and Vietnam. The fact that casinos aren't yet legal in some of those jurisdictions doesn't matter. "Our most recent conversations have advanced to the point where details such as site selection … have been discussed." LVS shares closed the day up 2%, then fell almost the same amount in after hours trading, proving that there's just no pleasing some people. Either that, or investors are all spiteful Mitt Romney supporters, we don't know…
Also issuing report cards on Wednesday, gaming device maker Bally Technologies saw its Q2 revenues rise 15% to $210m. Net income was $24.2m, down from $27.3m the previous year. On a channel by channel basis, Bally saw operations revenue climb 12% to $86m and systems revenue rose 16% to $54m. New machine sales made only modest improvement (from 3,468 to 3,636), but the price of each machine was 13% higher than the previous year. Bally shares rose almost 2.5% on the day.
Ameristar Casinos reported Q4 net income of $7.4m, off from $10.9m the previous year. Revenues rose slightly, increasing to $296.2m from $294.1m. Ameristar operates casino-hotels in eight US states, mostly in the southern and midwest regions.