Tim Hudak, leader of Ontario's opposition Conservative party, thinks the governing Liberals are taking an awful chance getting into the online gambling business. "Trusting [Premier] Dalton McGuinty with a new revenue source is like giving the keys to the liquor cabinet to teenagers and going away for the weekend." Hudak's overly dramatic comments came as the Ontario Lottery & Gaming Corporation (OLG) announced it was looking for digital wizards to help hang out its shingle on the world wide interwebz.
OLG spokesman Tony Bitonti says the province is looking for an experienced company to provide OLG with "soup to nuts" service – offering online casino and lottery products, handling payments, customer service, etc. over a rumored five-year initial contract. Poker, bingo and sports betting products will be rolled out in phase two, and the whole deal will go mobile in phase three. The deadline for applicants is Feb. 3, 2012. The previously stated launch date of "early 2012" has reportedly been pushed back to a partial launch by the end of 2012, with a full rollout by Q2 or Q3 2013.
As Canada's largest province, whichever company gets the contract will likely use it as a high-profile audition for future state lottery contracts south of the border if/when the relevant legislation is passed. eGamingReview suggested prospective bidders would include GTech, Dragonfish, bwin.party, Intralot, Camelot and SciPlay (the Scientific Games/Playtech joint venture which hopes to provide an online poker platform for California tribes if/when). Also likely to be throwing its hat in the ring is OpenBet, which currently operates the British Columbia Lottery Corporation's (BCLC) online gambling site, PlayNow.com. But since Bitonti says OLG wants to be sure they "get this right the first time," OpenBet may just want to leave PlayNow's bungled launch off their resumé.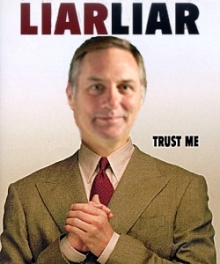 Hudak, meanwhile, wants to know how the fledgling OLG site can expect to gain traction against established competition like PokerStars and Bodog. "There's a product out there that's successful. How is the OLG going to trump that?" Well, if they're anything like BCLC VP of corporate affairs Kevin Gass (pictured left), a public disinformation campaign may be just the ticket. BCLC is desperate to get in on the single-game sports betting biz if legislation introduced by federal MP Joe Comartin gets the Parliamentary nod. How desperate are BCLC? Desperate enough that Gass has been making the media rounds, warning that Canadians should be careful when placing bets online via UK-licensed operators like Bet365 and Bodog, which Gass described as "illegal" sites.
It is indeed illegal for Gass and his provincial lottery cohorts – companies with operations based in Canada – to offer single-game sports bets, at least until Comartin's legislation is approved. But someone in Gass' position should know all too well that the UK-licensed sites currently satisfying the single-game sports betting needs of Canadians aren't breaking any law. Then again, perhaps Gass doesn't keep as abreast of legal requirements as do his international rivals. After all, they must answer to external regulators, whereas BCLC, OLG and other provincial lottery corporations are regulated by a different branch of the same government that owns and operates them – which effectively makes them unregulated operators.
Viewed in that light, Gass' ignorance is understandable – and part of a pattern. In case anyone's forgotten, it was Gass who told the media that PlayNow.com had been taken offline the same day it launched because it "had a tremendous response, and quite frankly it overwhelmed the capacity we had expected." Five days later BCLC admitted that the pulling of PlayNow's plug was because it was inadvertently exposing players' financial info to other players, meaning Gass had, er, misspoke. Again.