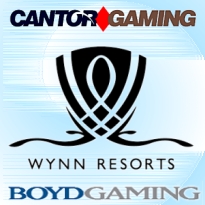 Cantor Gaming has added the Palms Casino Resort to its burgeoning list of Las Vegas casinos for which it supplies sportsbook and mobile-betting services. Cantor, whose deal to operate sportsbooks at the Venetian and Palazzo casinos was approved in August, will begin construction on its Palms operation in April, and expects to unveil the completed project by the start of the 2012 football season. Cantor's mobile betting operation will be available throughout the Palms facility, including its hotel suites.
Peripheral Black Friday figure Jeremy Johnson was arrested over the weekend after a check he gave Wynn Resorts to cover his Vegas casino losses bounced. Johnson wrote the six-figure check in November 2010, but for whatever reason, Wynn didn't deposit the sucker until after Johnson's assets had been frozen by federal authorities in connection with his alleged involvement in a massive fraud scheme (unrelated to online poker). A Nevada judge issued an arrest warrant for Johnson, the existence of which was discovered when Johnson was pulled over for a routine traffic stop. Johnson has since posted bail. Girls Gone Wild founder Joe Francis is still embroiled in legal action regarding his own problems with Wynn markers.
Ironically, KeyBanc Capital Markets boosted Wynn's rating from 'Hold' to 'Buy' on Monday, citing its advantage in the Las Vegas high-end customer market. KeyBanc suggested that such 'affluent' clientele would "hold up better than the mass market in any economic shock scenario" (assuming they can keep out of jail). Wynn shares rose nearly 8% on the news, but shed 4% on Tuesday. (Did someone cash a marker?)
The Las Vegas Review-Journal reports that the vacant lot on the Strip across from the Wynn Las Vegas that used to be the New Frontier casino will remain empty for the foreseeable future. Elad Group, the Israeli outfit that paid $1.24b for the dirt in 2007, had planned to launch a Vegas version of New York's Plaza Hotel (which Elad also owns) on the site, but now says the project "will not go ahead." Elad intends to write off $500m of the investment. Steve Wynn told analysts last month that Elad execs had pleaded with him to "help us get out of this" but Wynn had declined to investigate the option of developing the site, citing his hatred of the US federal government and its "insatiable appetite for money."
In other deals-gone-bad news, Boyd Gaming Corp. will not be selling its Dania Jai-Alai property to Dania Entertainment LLC after the latter company couldn't close the transaction within the allotted time period. Dania Entertainment had already exercised an option to extend the closing date, but enough was apparently enough. Until Dania Entertinament gets its act together or another suitor appears, Boyd will continue to run the Dania Beach, Florida jai-alai joint.