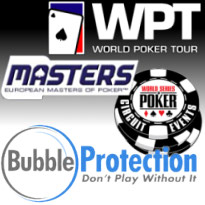 Anthony Ruberto has won the main event at the World Poker Tour's first trip to the Orange Park Kennel Club in Jacksonville, Florida. Ruberto outlasted his 392 competitors over four days of play to earn $325k and a seat at the WPT Championship at the Bellagio in Vegas next year. Sam Soverel earned $187k for being the last opponent to stand in Ruberto's (and fate's) way, while Lisa Hamilton took $112k for finishing third. As for whether Ruberto's friends can expect their suddenly flush buddy to cover the celebratory bar tab, perhaps Ruberto's post-victory comments will set them straight. "I don't have friends. They cost you money." Seriously, worst Sesame Street singalong ever…
Bryan Schultz has won the main event title at the World Series of Poker Circuit stop at Harveys Lake Tahoe. After posting their $1,600 buy-ins, a starting field of 327 (up 20% over 2010) took four days to work its way down to just Schultz and Daniel Lowery. Schultz ended up pairing nines on the river, which prompted a river of money ($111k) to flow his way. Lowery earned $69k for his second-place finish, while Ron Segni took third and $50k.
Across the pond, Edgars Augstkalns has earned €57k for winning the European Masters of Poker main event at the Royal Casino Spa & Hotel in Riga, Latvia. The €1,650 buy-in attracted a field of 175 players, including local hero Augstkalns' heads-up opponent, Sweden's Joakim Fredriksson, who earned €40k. Another Latvian, Maris Keiriss, finished third to collect €30k.
Of course, what if you're the sorry sod who ends up being bubble boy at one of these tournaments? Enter BubbleProtection.com, the latest company offering 'bubble insurance' policies (following BeatTheBubble.com's debut in May). Basically, for 12% of a tournament buy-in, BubbleProtection expands your bubble by 10% of the total field, and 100% of your buy-in is covered (assuming you're ousted within the boundaries of the 'new' bubble). Chris Moorman (last seen finishing 2nd at the World Series of Poker Europe) is on board as bubbly spokesdude, hyping the inaugural Bubble Protection Invitational on Party Poker this Tuesday (29th).
Comments