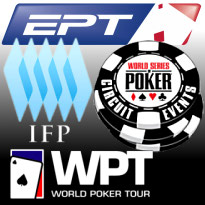 UK pro player Zimnan Ziyard has won the European Poker Tour Loutraki, earning €347k. The EPT's first visit to Greece attracted 336 players to the Club Hotel Casino Loutraki, and after six days of play, it took two hours of heads-up action for Ziyard to dispatch German player Hauke Heseding. Heseding earned €221k for his second place finish, John Taramas took third and €134k, Florian Schleps earned €100k in fourth, Pierre Mothes took €67k for fifth, and sixth place finisher Andras Kovacs earned €53k.
Raul Mestre has gone into the record books as the first ever International Federation of Poker world champion. The Spaniard earned $250k for defeating heads-up opponent (and Guardian columnist) Victoria Coren, one of three women to final table "The Table" (as the IFP somewhat grandly dubbed their inaugural championship event) in London. Coren earned $100k, while Brazil's Igor Trafane took third and $50k. Serb Slavko Tomic earned $25k for his fourth place finish, while the remaining two female players – Australia's Marsha Waggoner and German's Sandra Naujoks – earned $20k and $17.5k respectively.
Farhan Madhani has taken the main event title at the World Poker Tour Regional Rock and Roll Poker Open at Florida's Seminole Hard Rock casino. The $2,500 buy-in garnered a field of 331 and a prize pool of $761k, of which Madhani claimed $172k. Runner-up Alex Venovski took home $150k, while 2010 PokerStars Caribbean adventure champ Harrison Gimbel took third and $76k.
The World Series of Poker Circuit stop at the IP Casino Resort in Biloxi, Mississippi convinced 337 players to pony up the $1,600 buy-in, creating a prize pool of $490k. Jerry Monroe earned the title, a snazzy gold ring, $112k and a seat at the season-ending WSOP-C National Championship at the Rio in Las Vegas next summer.
You can earn a place in poker history by winning one of the above tournaments, but there is an easier way (presuming you've got deep enough pockets). The cash-strapped city council of Harrisburg, Pennsylvania, has decided to raise some scratch by auctioning off its collection of Wild West history, including a poker table used by legendary frontier lawman Wyatt Earp (of 'OK Corral' fame). Also up for auction: a 'vampire-killing kit," which could come in handy for seeing off some of your more pasty-faced poker competition.
The cards used at Earp's 19th century poker games probably didn't look much different from the cards in use today. In fact, barring the occasional deck featuring women in various states of undress (God bless 'em), there's been precious little innovation in card design over the last hundred years or so. But check out these Helveticards™, designed by Ryan Myers. At $10 a pack, they're the perfect Christmas gift for the poker player and/or font Nazi on your holiday list.
Comments