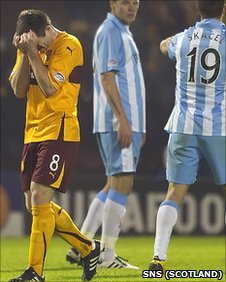 A Gambling Commission investigation has concluded with Merseyside Police taking a footballer into custody over match fixing allegations. Steve Jennings and his accomplices are being accused after betting irregularities came to the attention of the authorities after a game involving Jennings' club Motherwell in December 2010.
Stewart Regan of the Scottish Football Association made a statement, which read,
"The Scottish FA has received notification from the Gambling Commission that the Motherwell FC player, Steve Jennings, was arrested at his home today by Merseyside Police. This follows extensive enquiries in relation to alleged betting irregularities at a Scottish Premier League match between Motherwell and Hearts on December 14, 2010.
"While the investigation involves several other individuals outwith Scotland, it is important to stress that the evidence gathered throughout this thorough period of investigation has involved only one Scottish match.
"Motherwell FC are aware of the situation and will issue a response in due course. The Scottish FA will make no further comment at this stage."
Merseyside Police later confirmed that nine men had been arrested across Merseyside and Glasgow in relation to the events and are looking at charging them with "conspiracy to defraud."
The information first came to light when Blue Square reported to the SFA that they'd seen irregular betting patterns on the game. An unnamed bookmaker added to this and it prompted the Gambling Commission enquiry to start.
When Jennings received his marching orders with eight minutes left at Fir Park in December, it was hardly the most surprising turn of events given that he had the worst disciplinary record at the club. Everyone would have been fine about it had he not gone and told his friends to put a monkey on him getting a red card.
Now Jennings finds himself nicked by the Merseyside Police as if he were a car stereo at the mercy of a group of kids in the city. Next time he either needs to show a bit of restraint when asked to fix games or to simply be a bit cleverer about it (not that we're condoning his actions for one second). Getting yourself sent off and your friends to put money on it really isn't the most devious way to fix a game, after all.
In this day and age it's very hard for anyone to successfully fix a match thanks to the advanced technology that the sports betting industry has put in place to prevent it happening and with Interpol onside, more people continue to be caught out.