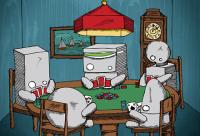 A couple of forum posters on the 2+2 poker forum are calling out the iPoker Network for their rampant use of poker bots. This time, British bookmaker William Hill is accused of using bots at its poker tables.
Forum poster Zaudermeister has screen shots of a suspected poker bot with an appropriately deceptive/obvious handle "bot771107". Zaudermeister, who uses the William Hill iPoker skin, raised the issue with a customer service rep asking bluntly, "Is the player 'bot771107' a bot?"
The customer service rep replied, "Yes (he is); and he is also marked as one (a bot)".
It's hard to tell if this is a confused CS rep or just another damning indictment of the Playtech owned iPoker Network. The iPoker Network has a notorious reputation in the industry and among poker players for its widespread of poker bots.
The reason poker networks would use bots in their network is to increase liquidity, it adds more players who play more hands and in turn increases the rake taken by the poker network. Also the use of bots increases a poker room's player volume, moving them higher on sites like PokerScout.com and giving them a higher profile than they deserve. iPoker currently sits 3rd in the PokerScout.com rankings.
It's a dodgy practice. While rarely admitting it, these "players" are supposed to win as much as they lose while increasing the hands played and in turn increasing the rake taken by the card room.
What's most troubling about the "Bot771107" situation is that the suspected bot is in profit to tune of over $7,000 on 1000 games played. So not only is the iPoker Network profiting from raked games, the bot is stealing cash from the players bank roll.
This is just one bot but considering the iPoker Network's reputation, it's safe to speculate that iPoker employs bots across all its skins. This would mean Paddy Power, Bet365, Chilipoker and a slew of other European multichannel gaming companies also see bots.
In the 2+2 thread, the posters were bandying about the William Hill terms of agreement 10.1.1.4 which you can read below.
William Hill terms – 10.1.1.4 in games offered via the Website which benefit from more players or greater liquidity we may deploy electronic players (known as robots, and whose usernames will be "bot") who are pre-programmed to play and join in with the game in order to assist the liquidity or the number of players gaming although we will not use bots without making such usage clear to You.
The terms clearly state that they use bots in order to increase liquidity in the games.
I called the William Hill customer service to ask for clarification of 10.1.1.4 and the rep emphatically denied the use of poker bots on the iPoker Network. This rule, according to the CS Rep, is meant to cover their skills games such as backgammon, dominoes or gin rummy. However, that isn't specified so if William Hill or iPoker Network are ever discovered to be using bots, their T&C would technically cover them but it wouldn't cover them from the shit storm they are sure to receive from players.
Whenever poker bots are mentioned, poker players get suspicious and pissed off at the thought of losing money to a machine. Rightly so, as it's hard enough to grind out a profit playing against the pros and bum hunters who use data scraping software. Recreational poker players shouldn't need to worry about their poker operator joining the ranks of the sharks and bum hunters by trying to beat them out of their cash.
An email sent to the iPoker Network to clarify their stance on the use of poker bots throughout their network was not returned at the time of publication. Nor was an email sent to the Gibraltar Regulatory Authority for their official stance on the use of poker bots by licensees.