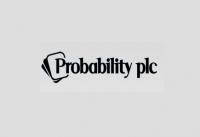 Probability has confirmed press speculation over the weekend that it is in preliminary discussions with William Hill. The Gibraltar licensed mobile gambling industry operator confirmed today that there have been discussions. Their statement did reveal it "may or may not lead to an offer for the company."
The Telegraph reported that "people familiar with the matter cautioned William Hill is looking at a variety of mobile phone gaming acquisitions and it is quite possible both companies may not be able to agree a deal."
Talk of acquisitions is never far away from William Hill and the latest talk may have something to do with their upcoming operations in Nevada. The company is expected to start offering land-based sports betting before the end of the year and adding Probability's mobile expertise may improve the Leroy's mobile sportsbook product that they acquired earlier this year. It was also rumored last month that they may consider a bid for the newly-merged Pwin.
When the story went to press, we hadn't received a reply from William Hill but a spokesperson for William Hill told the Telegraph, "We are always looking at many opportunities, particularly in the online and mobile space. However, we never comment on individual situations."
Intralot has announced that the company will launch a mobile product in Italy. Intralot Mobile will provide customers with the chance to bet on all manner of sports and live events wherever on the Mediterranean boot they might be. It has been enhanced for both smart phones and tablet PCs.
The CEO of Intralot Italia, Mr. Enea Ruzzettu, stated: "The introduction of Intralot Mobile confirms Intralot's strategy to continuously develop new products and services that meet its customers' requirements. Players in Italy will have the opportunity to access a wider gaming offering through a safe and easy to use platform. We are confident that our new Mobile service will be embraced by the players and will soon yield very positive results."
The country right now has the highest mobile penetration in Europe at 155% meaning this could be a lucrative deal for Intralot.
Betgenius has announced a partnership with RunningBall. The new tie-up means that Betgenius clients can benefit from 30,000 live sports events every year on which they can trade until they drop. It comes only days after they acquired Boolabus and signals the aggressive attitude towards expansion that they seem to have.