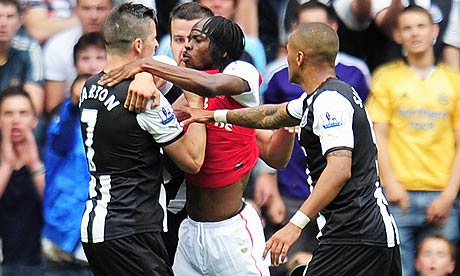 The Premier League returned with something of a flicker at the weekend. Goals were sparse around the league save for Loftus Road which saw four. Thankfully, one man being on the pitch and in the spotlight gave us plenty to talk about though. Take it away Joey…
The biggest talking point
Much of the weekend involved Arsenal and it's perhaps fitting that a moment from their game is the main talking point from the weekend. Joseph "I just found out how to work Twitter" Barton has been on the lips of most of those in the football fraternity for weeks. The transfer-listed midfielder returned to action with a fascist-style haircut this weekend. That wasn't what got people talking though.
Alex Song first stamped on Barton's leg in the Newcastle game with Arsenal and after that went unpunished, the blue touch paper was lit and it was only a matter of time before he was the centre of attention. Gervinho was a victim of the ire and how Barton stayed on the field, only he will know.
When we spoke to the bookies on the incident, Ed Pownall of Bodog stated, "He's a total cvnt. Yes, he was fouled but he can't help but get involved and then to slag off Newcastle legend Shearer on Twitter later proves what an idiot he is"
Alex Donohue from Ladbrokes, added, "From a bookies' perspective his presence in a side can push punters towards a high card makeup, which resulted in small losses in those markets on Saturday."
Goal of the weekend
Sebastian Larsson's volley against Liverpool for his new club, Sunderland, is likely to find itself in the end of season goal of the season's competition.
See it here
How the online gaming company sponsored sides got on
None of them faced each other this weekend and the sides that came away with most credit were 188BET-sponsored Bolton and Sportingbet-endorsed Wolves. Owen Coyle's side had the pleasure of visiting a sub-standard QPR side that shipped four goals to the Trotters. Wolves faced a trip to Blackburn and had goals from Steven Fletcher and Stephen Ward to thank for a 2-1 reverse. The Bodog Baggies faced the most arduous of tasks as they faced the champions Man Utd at the Hawthorns and succumbed by two goals to one. Villa (Genting Casinos), Sunderland (Tombola) and Wigan (12Bet) all gained a point. Swansea (32Red) faces a trip to Man City tonight and take part in the first match-up between two of the sides as they host Wigan next weekend.
The online gaming industry firms themselves had a mixed weekend. Most took a big hit on the West Brom v Man Utd game, with Alex O'Donohue from Ladbrokes stating, "In-play support for Manchester United was relentless at 1-1 and their winner changed the game from our biggest winner to our biggest loser."
Sponsors of the Baggies, Bodog, also didn't fare well on that game, Pownall adding that the first goalscorer being Wayne Rooney and the final score were not a good outcome. Betfred also didn't do well.
The amount of draws was a pleasing aspect of the weekend for the bookies, Betfred's Mark Pearson, stating, "Us bookies love draws and with five in the Premier League, including three being nil nil, it was a cracking opening weekend for us."
Donohue added, "Draws for Liverpool, Arsenal and Chelsea were welcome coupon busters," with Bodog's best game being the draw between Liverpool and Sunderland.
Tonight's game between Man City and Swansea will give us a first look at Roberto Mancini's side and whether they can mount a challenge at the title.